---
Architecturally, the Conrad Prebys Aztec Student Union is a classic "mission revival" design that pays tribute to the rich history of San Diego State University. In keeping with the classic design, the building features expansive, arches, arcades, balconies and courtyards.
To take advantage of San Diego's beautiful year-round climate, there are several outdoor seating areas and courtyards for dining, studying, relaxing and enjoying outdoor entertainment.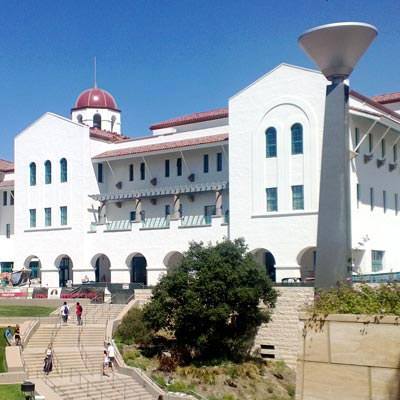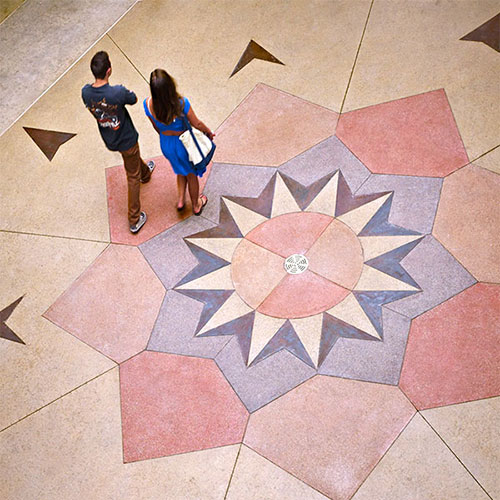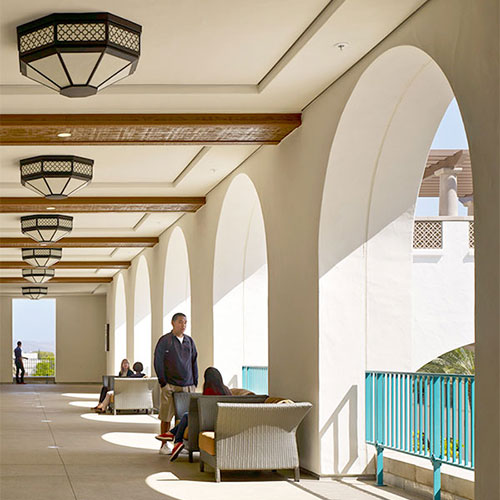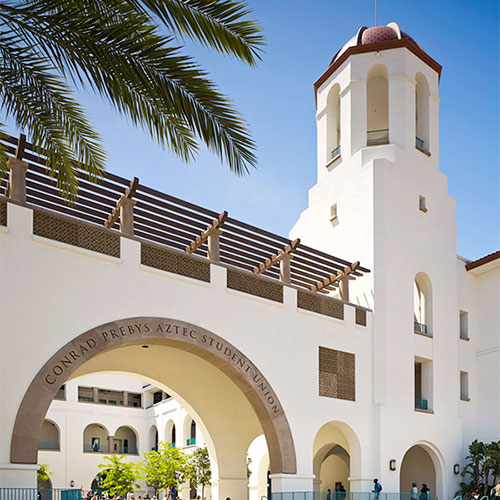 Project History
Conrad Prebys Aztec Student Union replaces Aztec Center, the first student union in the California State University system. Opened in 1968, Aztec Center served a student population of approximately 10,000 students. Aztec Center's mission was based on the Association of College Unions International's statement, "The Role of the College Union."
Today, "The Role of the College Union," is the foundation of the Union's mission. It is the impetus for rebuilding the student union to meet the growing needs of the campus community and to provide quality facilities and services for 21st-century students. Upon opening, the Union served 34,000 students in the 2013-14 academic year.
Building Funding
In March 2010, a majority of S.D.S.U. students approved a Student Body Center Fee increase to build a new student union. The additional fee increase of $94 per semester went into effect in fall 2013. The 2010 referendum was preceded by a successful 2006 referendum that sought to increase fees by $56 to renovate Aztec Center. However, the approved fee increase was shortly followed by the Great Recession, which saw increased bond rates and construction costs, and a decrease in projected student enrollment. It was determined that a renovation would not be feasible as originally envisioned.
Accessibility
Conrad Prebys Aztec Student Union is designed to accommodate students of all abilities. Questions regarding accessibility can be directed to the University Information Center, located on the first floor of the Union. Students can also contact Student Disability Services in Calpulli Center, Suite 3101.
Building Highlights
206,000 square feet dedicated to student programming and services
ARC Express – a satellite fitness center with cardio and resistance equipment

(no locker room/showers)

Aztec Lanes – a state-of-the-art bowling and games center
Dining – Starbucks, The Habit, Chipotle, Oggi's, and an expanded Aztec Market with a ShakeSmart kiosk
Student Affairs – student organization offices, Commuter Student Resource Area, the Center for Leadership and Community Service, and Center for Intercultural Relations
Wifi – wireless Internet access throughout the facility and in outdoor spaces
Foot-washing stations
Lounges – Montezuma Lounge, Student Lounge, the Harvey J. Goodfriend Lounge and other outdoor and indoor seating areas for studying, meeting and relaxing
Lactation Room (secure & private) in Harvey J. Goodfriend Lounge
Meeting Rooms and Outdoor Program Areas – 13 meeting rooms of various sizes and capacities, including Montezuma Hall and a 300-fixed seat multipurpose theatre and Goldberg Courtyard
Associated Students offices – Government Affairs, Business Services, and Union Programs and Services
University Information Center and Lost and Found
LEED Double Platinum-certified – Designed and planned to use less energy and other resources as compared to similar buildings, the highest level of certification in sustainable building from the U.S. Green Building Council