Associated Students is committed to sustainability and it shows in its work on campus projects and through the work of the Green Love sustainability advisory board.
Associated Students of SDSU prides itself as a leader, trendsetter, history maker and role model for sustainability on the San Diego State campus and in the California State University system. Nearly 80 percent of the materials from the original student union, Aztec Center, have been recycled or will be reused in Conrad Prebys Aztec Student Union.
Sustainability Dashboard
Check Out the Union energy consumption
---
Architect: Cannon Design
Building Contractor: Sundt Construction
---
What is LEED Platinum certification?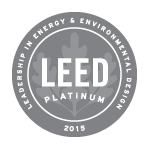 Leadership in Energy and Environmental Design (LEED) is a "green," or sustainable, building design-rating system developed by the U.S. Green Building Council, also known as the U.S.G.B.C. The system provides standards for environmentally sustainable construction and it includes three levels of certification: silver, gold and platinum.
Aztec Student Union is designed as LEED Platinum-certified project according to the U.S.G.B.C. Upon completion, Conrad Prebys Aztec Student Union will be the only LEED Platinum-certified student union in the California State University.
To achieve the highest rating — platinum — Associated Students hired Simon & Associates Inc., a consultancy, to work directly with architects and contractors. Associated Students of SDSU Sustainability Coordinator Glen Brandenberg, who has overseen a variety of sustainability upgrades to A.S.-managed facilities in addition to serving as advisor to the Associated Students Green Love sustainability board, will also oversee LEED aspects of the project.