About Us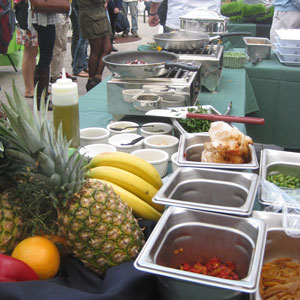 GreenFest, presented by SDSU's Associated Students and SDSU's Enviro-Business Society, is a series of events and initiatives, which encourage, celebrate, and advocate for sustainability, SDSU Pride, and diversity. The purpose of GreenFest is to engage the campus community through social and interactive programs in an effort to educate them on the importance of living a sustainable lifestyle and to promote sustainable practices.
---
Our Mission
To support the mission of San Diego State University, we the GreenFest Executive Committee (GFEC), shall program GreenFest, a combination of sustainabile, social, cultural, recreational, and educational events within the campus community that encourage, advocate for, and celebrate sustainbiltiy, diversity, and SDSU Pride.
---
Our Vision
The GreenFest Executive Committee will serve as a catalyst to the campus community regarding environmental awareness and education. The GFEC will work to expand the impact and quality of GreenFest each year while striving to execute zero-waste events.
---
Contact Us
Associated Students
GreenFest Executive Committee
Conrad Prebys Aztec Student Union
San Diego State University
San Diego, CA 92182-7800
Email GreenFest: greenfest@mail.sdsu.edu