Pancho Barraza
RESCHEDULED (Old date 10/23/21)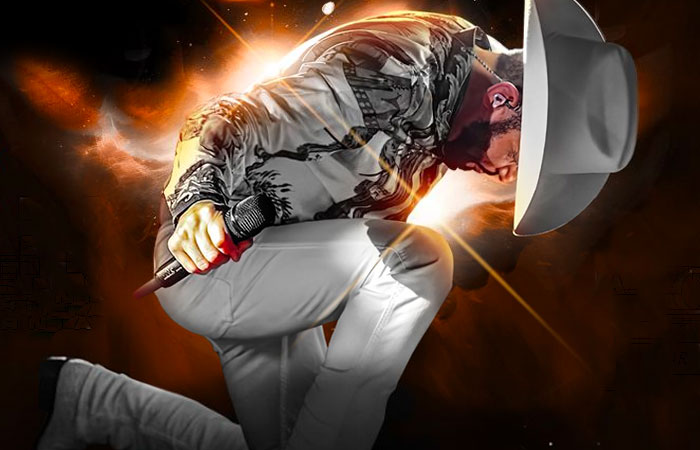 Saturday, April 23, 2022
---
---
DOORS OPEN: 7:00pm SCHEDULED START TIME: 8:00pm
Tickets Go On Sale:
On Sale Now!
Pancho Barraza, originally scheduled to play at Cal Coast Credit Union Open Air Theatre Saturday (10/23/21), will now take place on Saturday, April 23, 2022. Tickets are now on sale and we hope to see you there! Your original tickets will be valid for the new date.
At this time ticket holders will not be required to furnish proof of vaccination or a negative COVID-19 test result to enter the venue for this show. Please check back closer to the show for any updates.
MASK POLICY:
We encourage all guests to wear a mask when not eating & drinking.
FULLY VACCINATED individuals are not required to wear facial coverings while attending concerts at the Cal Coast Credit Union Open Air Theatre.
UNVACCINATED individuals should continue to wear facial coverings while outside, except while eating and drinking, and are required to wear facial coverings when indoors. Facial coverings must cover both the nose and mouth.
Full vaccination is defined as the completion of a two-dose COVID-19 vaccine or one dose of a single dose COVID-19 vaccine administered at least 2 weeks before the scheduled concert date.
ENHANCED CLEANING & SANITIZATION
Enhanced protocols have been instituted throughout the entire venue. Before and after each show all high touch areas, including seats, handrails, concessions stands, restrooms and merchandise stands will be sanitized.
STAY HOME IF YOU ARE ILL
If you feel sick, stay home. Know the symptoms of COVID-19, which can include the following: fever or chills, cough, shortness of breath or difficulty breathing, fatigue, muscle or body aches, headache, new loss of taste or smell, sore throat, congestion or runny nose, nausea or vomiting and diarrhea.
-Due to health and safety concerns we are not currently checking in personal property at our shows. Please review our allowable items prior to arriving at the venue.
-To expedite your entry into the venue we recommend no bags. If you must bring a bag, we suggest a clear plastic, vinyl or PVC tote bag, to reduce staff's contact with guest belongings. Please see our bag policy for allowable bag size.
Please be respectful of your fellow fans and their personal space during your time with us.
Note: guidelines could change as state and local health authorities update their health guidance based on evolving circumstances of vaccination rates and community infection rates.
En este momento, no se requerirá que los poseedores de boletos proporcionen prueba de vacunación o un resultado negativo de la prueba COVID-19 para ingresar al lugar de este espectáculo. Vuelva a consultar más cerca del programa para ver las actualizaciones.
POLÍTICA DE MASCARILLA:
Alentamos a todos los huéspedes a que usen una máscara cuando no coman ni beban.
Las personas TOTALMENTE VACUNADAS no están obligadas a usar cubiertas faciales mientras asisten a conciertos en el teatro al aire libre de Cal Coast Credit Union.
Las personas NO VACUNADAS deben continuar usando cubiertas faciales mientras están afuera, excepto mientras comen y beben, y se les requiere que usen cubiertas faciales cuando estén adentro. Los revestimientos faciales deben cubrir tanto la nariz como la boca.
La vacunación completa se define como la finalización de una vacuna de dos dosis o una dosis de una vacuna de dosis única administrada al menos 2 semanas antes de la fecha programada del concierto.
LIMPIEZA Y SANITIZACIÓN MEJORADAS
Se han instituido protocolos mejorados en todo el lugar. Antes y después de cada espectáculo, se desinfectarán todas las áreas de alto contacto, incluidos los asientos, los pasamanos, los puestos de concesión, los baños y los puestos de mercancías.
MANTÉNGASE EN CASA SI ESTÁ ENFERMO
Si se siente mal, quédese en casa. Conozca los síntomas de COVID-19, que pueden incluir los siguientes: fiebre o escalofríos, tos, falta de aire o dificultad para respirar, fatiga, dolores musculares o corporales, dolor de cabeza, nueva pérdida del gusto u olfato, dolor de garganta, congestión o secreción nasal. , náuseas o vómitos y diarrea.
-Debido a problemas de salud y seguridad, actualmente no estamos registrando propiedad personal en nuestros espectáculos. Revise nuestros artículos permitidos antes de llegar al lugar.
-Para agilizar su entrada al recinto se recomienda no llevar maletas. Si debe traer una bolsa, le sugerimos una bolsa de plástico transparente, vinilo o PVC, para reducir el contacto del personal con las pertenencias de los huéspedes. Consulte nuestra política de bolsas para conocer el tamaño de bolsa permitido.
Sea respetuoso con sus compañeros fans y su espacio personal durante su tiempo con nosotros.
Nota: las pautas podrían cambiar a medida que las autoridades de salud estatales y locales actualicen sus pautas de salud en función de las circunstancias cambiantes de las tasas de vacunación y las tasas de infección en la comunidad.
* Service Fees May Apply
* Prices, availability, and support acts subject to change without notice.