Mar '20
VOTE! A.S. General Elections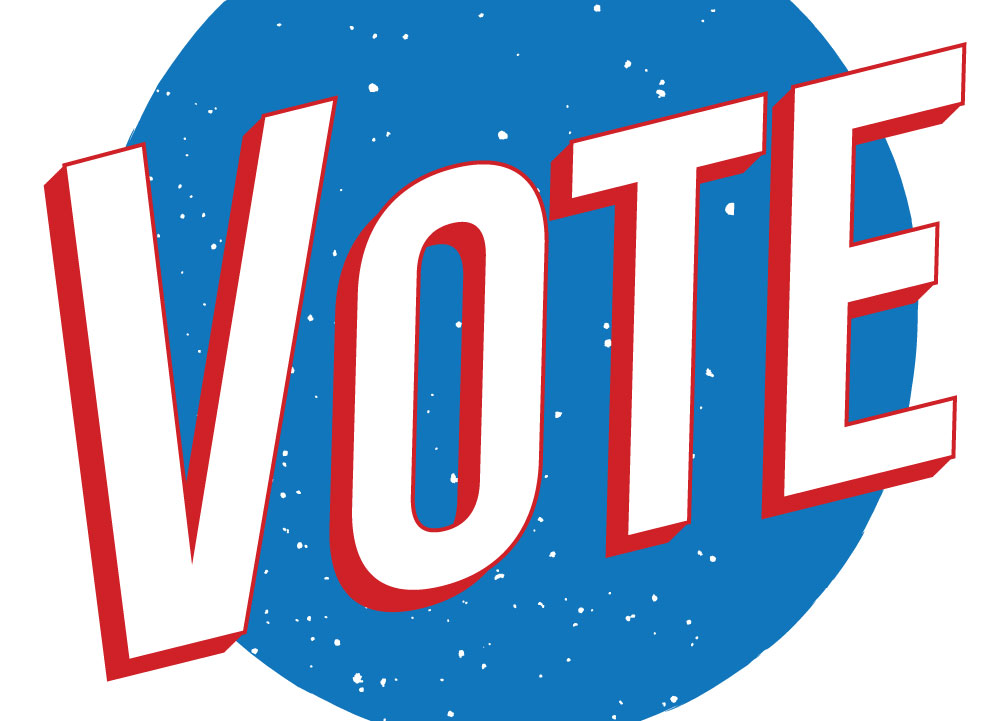 VOTE!
MARCH 23-26
ATTENTION STUDENTS: A.S. General Elections
Voting begins at 8 a.m. on March 23 and runs through 7 p.m. on March 26. Simply log in to the SDSU WebPortal, and click on "A.S. Elections" to cast your vote. It only takes minutes! As you prepare to choose your representatives, visit the A.S. website to review candidate statements to learn more about them and their plans.
Attend the debates for the Executive Officer candidates on March 16 through March 18 at noon in the Conrad Prebys Aztec Student Union Courtyard.
Then, attend the announcement of the election results at approximately 8 p.m. on March 26 in the Conrad Prebys Aztec Student Union Courtyard.
For additional information visit the Elections website.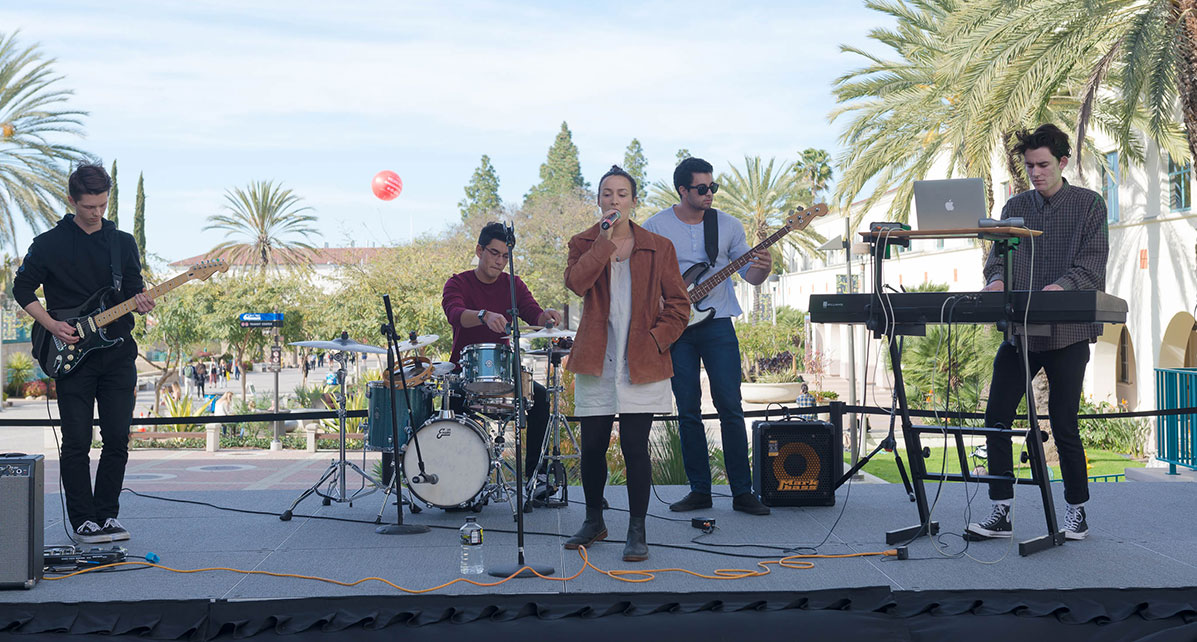 GreenFest 2020
March 9 - 13
VIVA LA TIERRA
Monday
10:00 a.m. - 2:00 p.m.
Aztec Student Union Courtyard
Art has a beautiful way of expressing so much in one piece. It can show history, stories, feelings, and ideas. Join us as we celebrate art and sustainability! Come create unique jewelry from recycled bike parts, enjoy henna art and watch paintings be created during the event.
CANDLELIT YOGA
Monday
6:00 - 7:00 p.m.
Montezuma Hall, Aztec Student Union
You deserve restoration — come enjoy a relaxing yoga flow led by Dr. Jen Shaw, DPT and R-RYT, who has taught at different yoga studios all around San Diego. There will be a hot tea bar at the end. Please bring your own yoga mat to participate. There will be a limited number of yoga mats that can be loaned out during the event. The flooring will be tile, please avoid wearing socks and using a towel.
ENVIROJUSTICE FAIR
Tuesday
10:00 a.m. - 2:00 p.m.
Aztec Student Union Courtyard
Let's talk about Environmental Justice. Come meet with community environmental justice activists and organizations that are seeking change, and learn what you can do to tackle EJ issues.
GREEN GAME NIGHT
Tuesday
6:00 - 8:00 p.m.
Aztec Student Union Courtyard
Join GreenFest for a night of green fun. Forget your phone, and come connect person to person. These environmentally charged games will help students understand the importance of maintaining a sustainable lifestyle.
GREENLUNCH BAG SERIES
Wednesday
12:00 - 2:00 p.m.
Aztec Student Union Theatre
Come join other students, staff, and community members for an educational and inspiring talk from an environmental professional. We will have free Oggi's, beverages, and the opportunity to network with other sustainably minded people.
GREENFEST FASHION SHOW
Wednesday
6:00 - 8:00 p.m.
Montezuma Hall, Aztec Student Union
Have a passion for fashion? The GreenFest Fashion Show is for those interested in creating and wearing sustainable 'fits! The competition this year will include Anything But, thrifting and ECOuture categories. Come enjoy an incredible show and meet with local thrift stores leading the way for sustainable fashion.
FARMERS' MARKET
Thursday
10:00 a.m. - 2:00 p.m.
North Love Library Walkway
Come check out GreenFest, pick up some swag and get hyped for the Concert!
THE ROOTED
Thursday
4:00 - 7:00 p.m.
Aztec Student Union Courtyard
The Rooted is an open mic event that will be highlighting SDSU students and their unique way of personal expression. We will also be collaborating with @xpress_it! This event will provide a positive and safe space catered towards diversity and SDSU Pride. There will be amazing food, live painting, multiple vendors to check out and more. We also will be having two major giveaways throughout the night! Come join us and let's celebrate our differences through all platforms of art and support our local community!
CONCERT KICK OFF
Friday
4:00 - 7:00 p.m.
Aztec Student Union Courtyard
Get hyped for the GreenFest concert with free food, games and activities. Come hang with your friends to listen to some amazing student performers! Must have SDSU RedID to participate in the event.
CONCERT
Friday
7:00 - 11:00 p.m.
Cal Coast Credit Union Open Air Theatre
The winner of the 2019 Battle of the Bands is Ariel Imani! Check out her out @imanimusic on Instagram. Must have a valid RedID to purchase a student ticket. Limited guests allowed.
Learn more at the GreenFest website.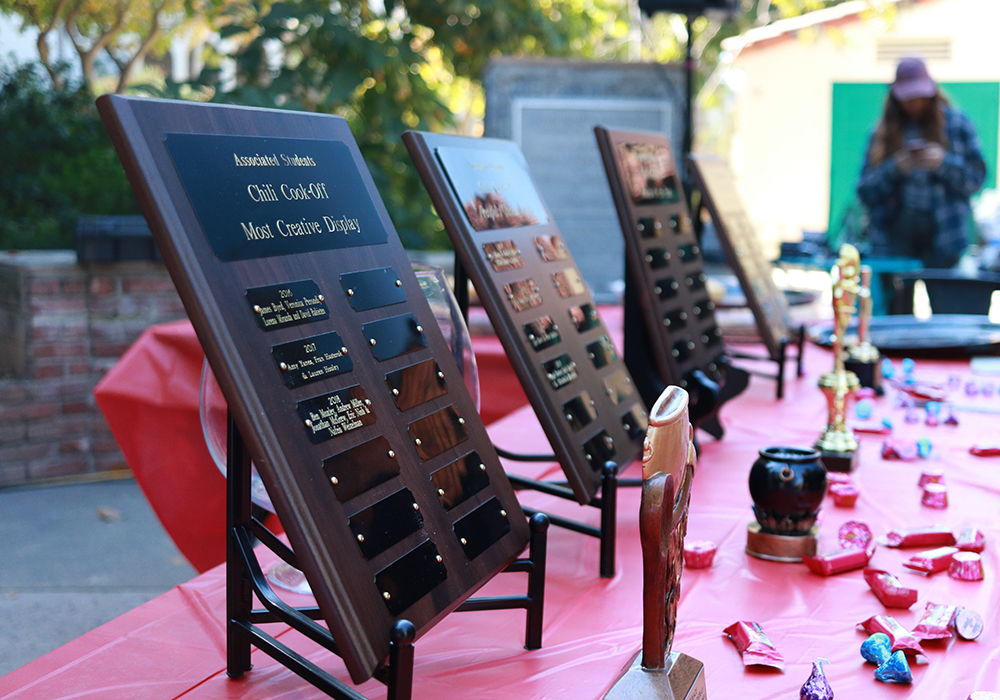 The Winners Are...
A.S. Chili Cook Off 2020
10 delicious chilis created by 10 teams of full- and part-time staff members, made for some stiff competition at the A.S. Chili Cook Off this year. And the winners are…
People's Choice
Ledger-ndary Chili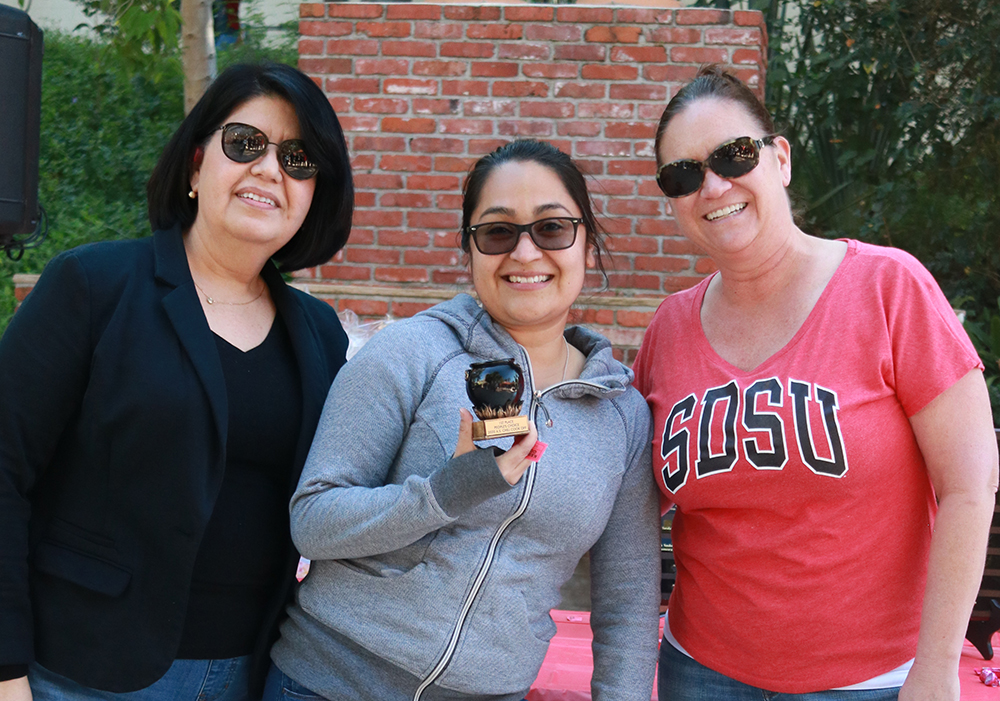 Diana de la Rosa, Viviana Rodriguez & Mary Medley— Business Services
Chef's Choice & Most Creative Display
Spicy Technology 2.0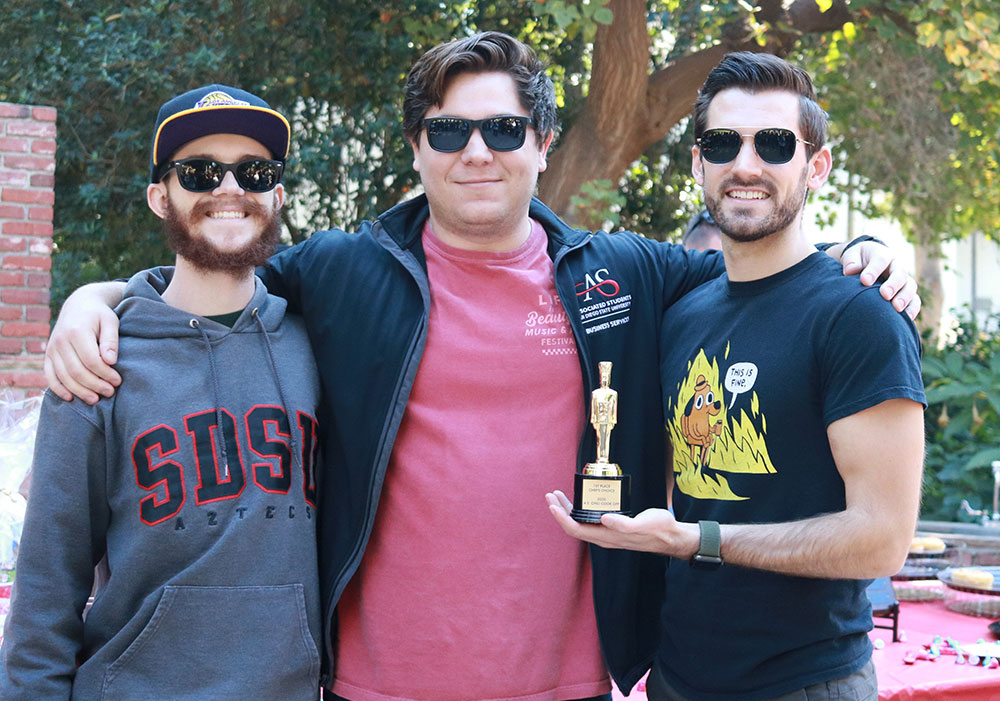 Jonathan McGrew, Ben Moxley & Andrew Miller — Business Services, IT
Rookie of the Year
We Have No Beef…Just Chill(i)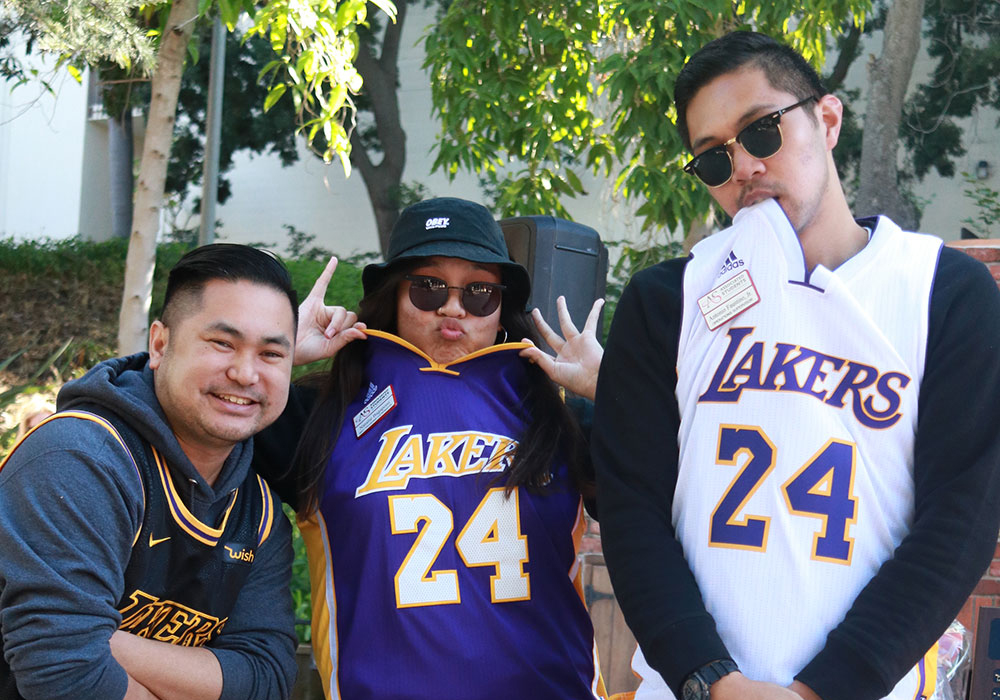 Anthony Cabrera, Natalie Bagaporo & Antonio Faustino, Jr. — Aztec Student Union, Operations
And a huge thank you to all the other participating chefs…
CooCoo For You Choco Chili
Michelle Phillips, Sara Sanders & Michelle Zamora — Children's Center
Cascades Cow Chili
Brandon Sevilla — Aztec Adventures
TDB
Hunter King, Noah Bargas & Edgar Lagunas — Aztec Student Union, Operations
Chili From Down Under
Lara Snow — Government Affairs
Netflix & Chilli
Sophie Levi — Government Affairs
Kool Beans
Elle Watson, Durand Smiley & Travis Bradshaw — Aztec Recreation, Building Services
Jamaican Me Chili Mon!
Mollique Johnson & Dan Maringer — Aztec Student Union
Thank you to Tim Ripke & Anthony Cabrera, our entertaining emcees, a big thank you to the Graphics department for their awesome designs and the Staff Morale and Event Planning Committee who helped make this event possible.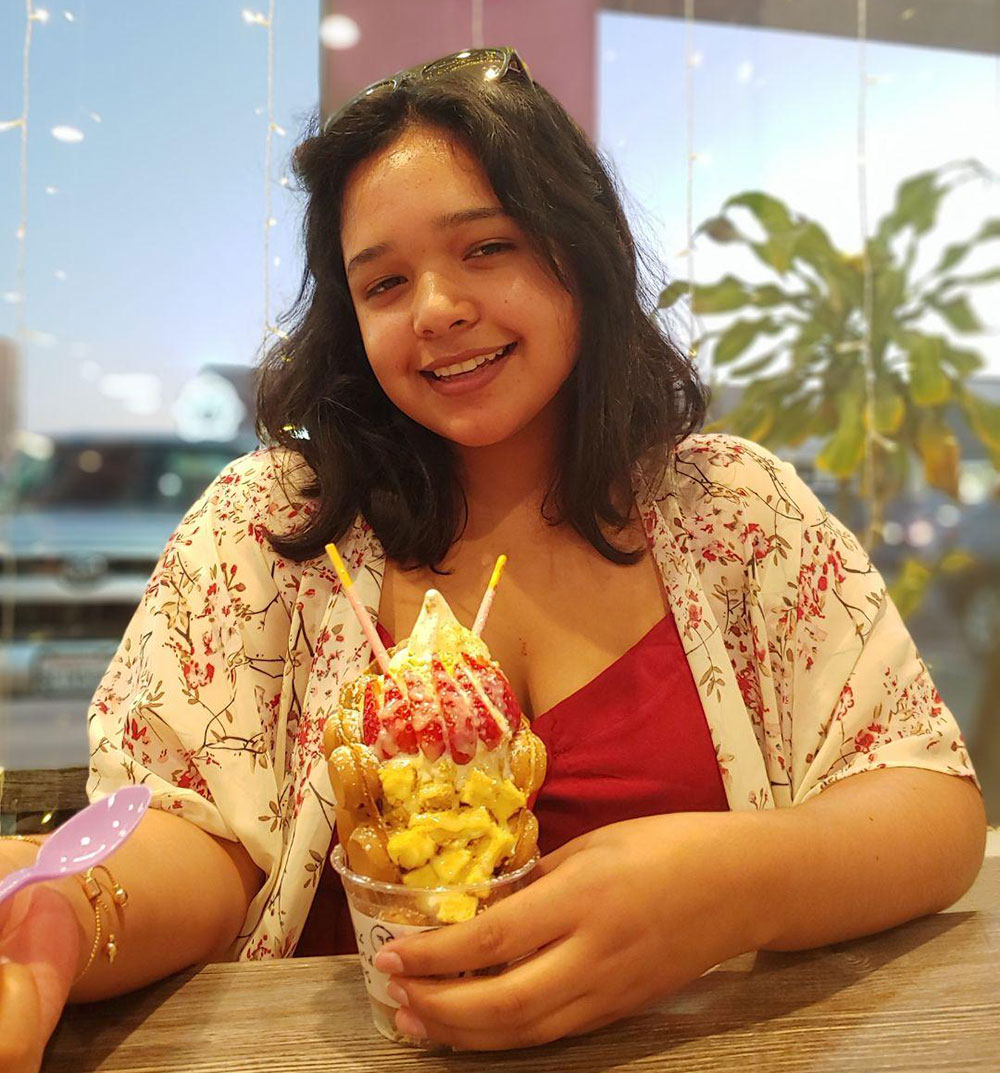 15 Questions
Hania Heredia
What is your name, job title and major?


My name is Hania Heredia, I am an Accounts Payable Assistant with a Business Marketing Major.

Which A.S. department do you work in?


I work in Business Services. I work mainly with student organizations dealing with their banking, sending out W-9's to businesses and processing fundraising forms.

How long have you worked for A.S.?


I have worked here for two years.

What was the last movie you saw? Thumbs up or thumbs down?


A few weeks ago I saw two movies in a row, "Jojo Rabbit" and "Fantasy Island." They were both in my nightmares, so thumbs up for memorability.

If you won $5 million what would you do with it?


I would set aside a trust fund for my nephew, buy a house in Kentucky and, if I still have anything left after taxes, I would invest it.

What city would you most like to visit or visit again?


Sighisoara, Romania in the winter because they have preserved history through the years, and I love history. Not to mention it is near Transylvania so maybe I'll get to see a vampire.

Would you rather build a sandcastle or a snowman?


A snowman, because that would mean I would be in the snow which is better than being at the beach due to my dislike of the sun. Not to mention, sandcastles have never been recorded coming to life.

What is your favorite book?


My favorite book is called "Stealing Mona Lisa" by Carson Morton. I loved this book because of the detail and storyline, but it's my favorite because after reading this book I got back to reading and finished 17 books that summer.

If you could start a charity, what would it be for?


I would start a charity for orphans, mainly those that cannot find a home to have the same educational and personal opportunities that other children have. I know the government pretends to care but I don't trust them so my own charity would be nice. Also would not call it a charity, more of a Foundation.

What type of pets do you have and what are their names?


I've had dogs since childhood, but those are my mom's dogs. When I get my own pet, I want to have a Pug named Jimathens so I can nick name him Athens and have a fun fact to tell my friends, who will immediately roll their eyes.

What three things are always in your refrigerator?


I always have strawberries, eggs, and chamoy. Chamoy isn't kept in my fridge but I never run out. Strawberries are my favorite fruit and eggs are good for anything.

"Most people don't know that I like to…


…buy supplies for the hobbies I say I am going to start but try once, like it and rarely do again. If only I had more time I would get around to it, but with school, work and going to stores to buy more supplies only to leave them in my room while I lay on my bed watching my shows, I just don't have the time."

When you visit the zoo, which animal do you make sure you see?


I haven't been to the zoo since elementary school fieldtrips, but I remember liking the birds there. It was ironic to go see these cages and look at a version of the animal I would shrink away from outside. Do you think they see the other birds freely flying outside and get sad about it? I do.

If you could be any color in a box of Crayola Crayons, what color would you be?


I would be Magenta, because it technically doesn't exist and that sounds nice. I have a vague idea of how that works but google can tell you. When I was in third grade, we had to color in a picture of a cowboy to win Rodeo tickets and this kid (while staying in the lines) colored the whole page Magenta just because she thought it was a pretty color which I have mixed feelings about but still remember.

What is one of your favorite things to do on the SDSU campus?


I like to go to the Student Union Starbucks at 6:30 a.m. when they open because I feel like a college student and that helps me be productive. Also, there are about five people there when I get there so it's nice.
Calendar
March 2020