Apr '22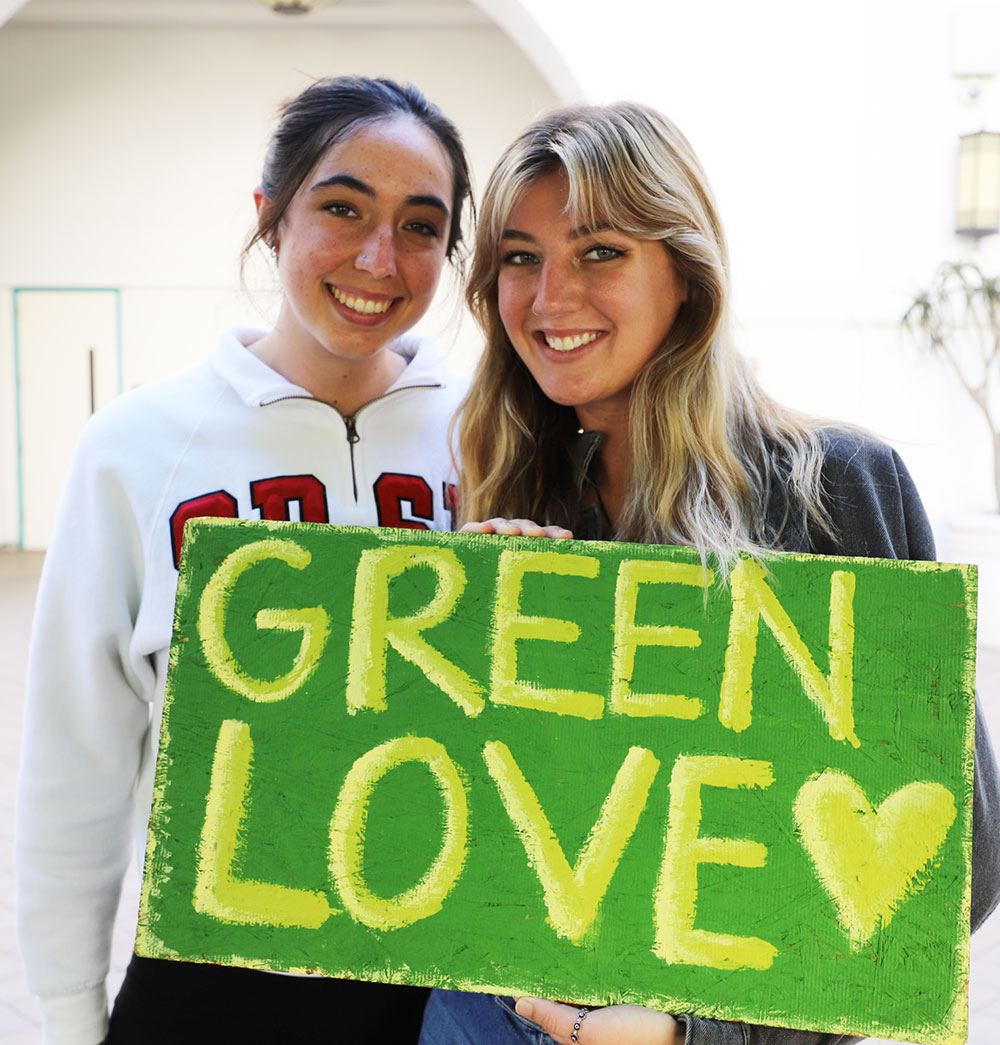 Earth Day
April 20 is Earth Day, an annual day celebrating our planet and supporting environmental protection. Read some interesting facts below on how A.S. honors our value of sustainability!
There are five large cisterns under the courtyard south of the ARC entrance that collect the rainwater runoff on the site. The water is treated and used for irrigation and toilet flushing at the ARC!
Our Aztec Student Union is the largest LEED Platinum Student Union building in California!
The Mission Bay Aquatic Center was the first LEED Existing Building Platinum Certified Facility in San Diego and the first LEED Certified Existing Building in the CSU System.
Nearly 80 percent of the materials from the original student union, the Aztec Center, have been recycled or reused in our current Aztec Student Union!
The ARC Expansion is designed for LEED Double Platinum certification. This will distinguish SDSU as the only university in the nation with both a LEED Double Platinum Student Union and Recreation Center!
A.S. has an entire student-led commission dedicated to campus wide sustainability called Green Love! Green Love hosts sustainable events, educates students and advocates for sustainable action locally and globally.
There are no fossil fuels utilized in the ARC. The building is all electric!
The Aztec Student Union uses highly efficient air conditioning and heating systems that respond to occupant demand, improve indoor air quality and use over 40% less energy than California standards!
The Mission Bay Aquatic Center was the first business in San Diego to generate 100% of the electricity it consumes from the sun!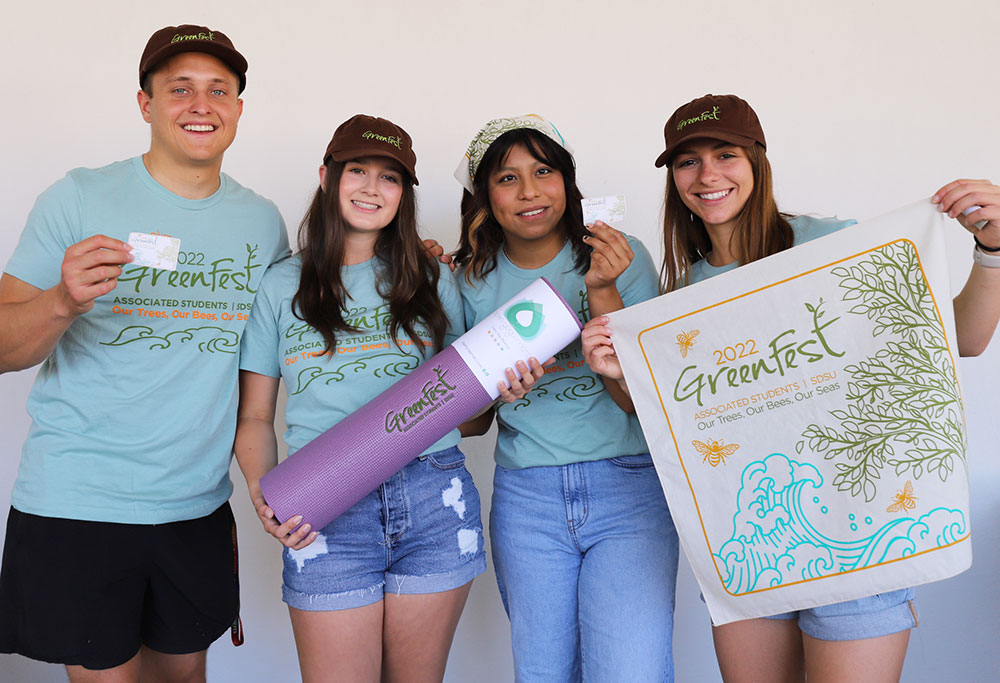 GreenFest
Our trees, our bees, our seas – that's the tagline for this year's GreenFest, which returns starting April 4! GreenFest is an annual week of educational and entertaining events for the SDSU campus community that encourages, advocates and celebrates sustainability, diversity and SDSU pride. Through the weeklong programming, GreenFest works to share the importance of living a sustainable lifestyle and to promote sustainable practices. Stop by any one of the GreenFest events listed below!
APRIL 4
GreenFest Tabling
12:00-2:00 p.m., Union Courtyard

Movie Night: WALL-E
6:30 p.m., Union Theatre
APRIL 5
Art of the Earth
11:00-1:00 p.m., Union Courtyard

The Rooted: Cultural Arts Festival
5:00-7:00 p.m., Union Courtyard
APRIL 6
GLBS: Paws and a Cause
11:00-1:00 p.m., Scripps Cottage

Mindful Movements: Yoga & Meditation
7:00-8:30 p.m., Montezuma Hall & Templo Mayor
APRIL 7
Swap Shop
10:00-3:00 p.m., Montezuma Hall

Enviro Fashion Show
5:00-7:00 p.m., Montezuma Hall
APRIL 8
Concert Kickoff
5:00-7:00 p.m., Union Courtyard

GreenFest Concert
Headliner: Gunna
Student Opening Act: Outside the Frame
Doors at 7:00 p.m., Show at 8:00 p.m., Cal Coast Credit Union Open Air Theater
For events details, visit the GreenFest website.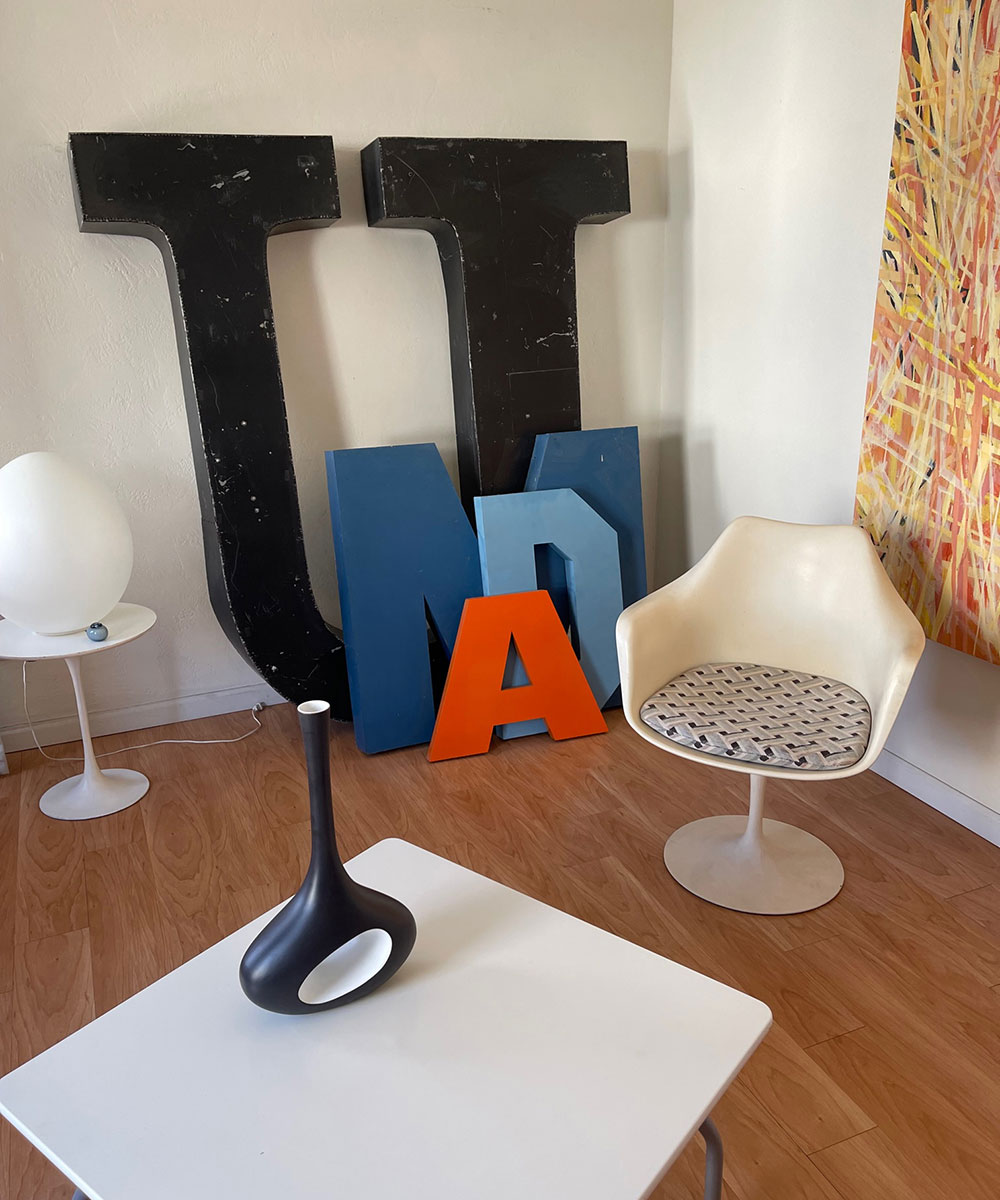 Collections
Do you collect coins, stamps or baseball cards? Or do you collect something more unique? Read below as some of our full-time staff share their interesting collections!
____________
Quentin Skaggs, Graphics Manager
I started a collection about 15 years ago, while browsing at an architectural salvage shop in Little Italy. They sell doors, light fixtures, advertising signs, stained glass windows and much more, all old and well worn, but all amazing. I came across a 6-1/2 foot tall capital letter "U." It was made of sheet metal, surprisingly light-weight, a little beat up, but I immediately knew I wanted it. I'm not sure why, but maybe working with the alphabet for over 40 years in the graphics design industry had something to do with my decision to buy it. So now I collect metal letters that were once used on the sides of buildings to spell out the name of a company or organization. I know, it is very unusual.
I live in a 1930s style apartment in North Park that is decorated in an interesting way, mainly mid-century modern furniture and things that I like to call "conversation starters." The "U" fits in perfectly.
I currently have 21 letters, ranging in size from 1 foot to 6-1/2 feet tall, some upper case, some lower case, different fonts, each interesting in its own way. Every room in my apartment has at least one letter in it, even the bathroom. Some hang on a wall, others are bunched together on the floor, leaning against a wall. One of my favorites is from here on campus. It is the letter "Z" that was once on the side of the Aztec Center, the building that the Aztec Student Union replaced. It was rescued as the building was being demolished.
I am always on the lookout for large letters; they can be hard to find, but they sometimes show up in the most unusual places. I once bought a 4 foot tall letter "A" at a yard sale in Yuma, Arizona while on a road trip to Phoenix. Fortunately, it fit in my car.
If you would like to start you own metal letter collection, visit:
Architectural Salvage of San Diego
2401 Kettner Blvd, San Diego, CA 92101
architecturalsalvagesd.com
____________
Adam Zamora, Systems Analyst
I have a decently sized Rubik's Cube collection. I started collecting in 2003 when I first started solving Rubik's Cubes. At first, I grabbed all the different shapes I could find and learned how to solve them. I bought all the older (1980's) puzzles and as new puzzles came to market, I bought those as well. Most of my puzzles have come from eBay, online stores or through private trades.
I went to many competitions and collected lanyards, certificates, awards, trophies, t-shirts and memorabilia. I have about 200 puzzles that include cubes, pyramids, dodecahedrons, icosahedrons, shape shifting puzzles and even puzzles I have made myself.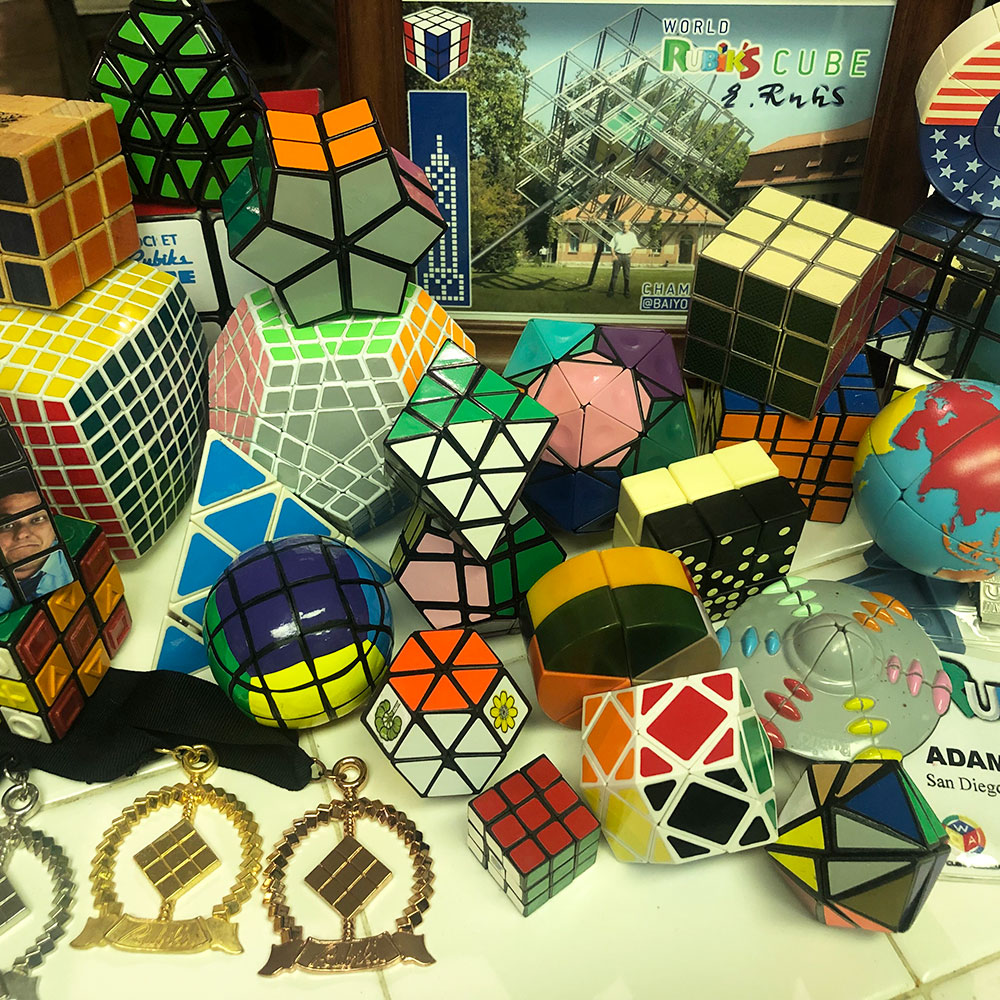 Over the years, my collection started to include puzzles with Hello Kitty (because of my wife) and some easier puzzles (because of my kids). My most recent puzzle is from the 1980s and it includes Superman and Wonder Woman on it. Some of my favorite puzzles are my Blindman's cubes (a cube with different textiles on them so you can feel each side), a metal and leather cube and a 20-sided puzzle called Dogic.
My puzzles range from a few dollars to a few hundred dollars. I have only seen my rarest puzzles on sale 1-2 times in my 19 years of collecting. When I was engaged and needed to raise funds for our wedding, I was able to sell some puzzles to help cover the cost of our wedding.
My most prized possession is a picture of Erno Rubik that I won at the 2012 Rubik's Cube World Championship in Bangkok, Thailand. My favorite memory from collecting is when I got to be the Master of Ceremony at a Science Festival in Washington D.C. and was presenting awards with Erno Rubik on stage!
Every once in a while, I look at my puzzles and each one brings back memories. Friendships I have made, travels I have done, competitions I have gone to. I think that's part of the reason I collect.
If you are interested in different types of Rubik's Cube puzzles you can look through an online puzzle museum at twistypuzzles.com or just ask me.
____________
Kaylani Brown, Aztec Student Union Operations Supervisor
I enjoy collecting little things here and there as a form of self-love. Doing little things for myself brings me happiness. With that said, my favorite collection I have today is my enamel pins, which actually started at San Diego State. In 2019, I worked at Pin & Patch Con as an Operations Lead, which was hosted in Montezuma Hall. Several vendors showcased so much art and enamel pins ranging from Disney, cartoons, and self-love quotes. I specifically remember I bought five pins I thought were adorable and three out of the five were Disney's Stitch, which is my favorite character.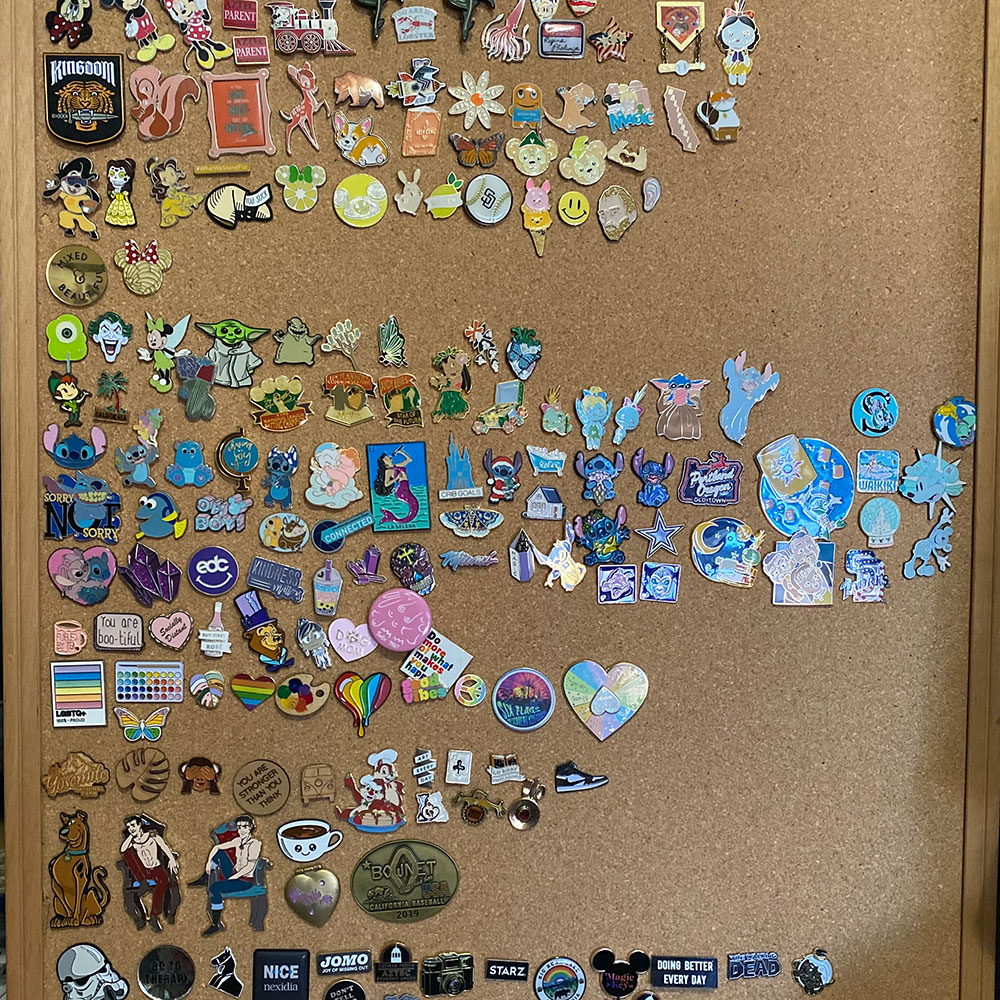 A lot of people usually put their pins on their jackets, lanyards or bags. I, however, liked the idea of putting them on a cork board. Next thing I knew, in a span of two years my five pins skyrocketed to 200+ pins. To me, collecting pins became a huge part of my life because they represented memorable moments in my life or meant something personally to me. For instance, a majority of my pins are mental health and self-love affirmations. I also collect butterfly pins, which is a huge representation of growth in my life or from whenever I visit places such as La Jolla, Barrio Logan or even different states. It's really neat when something as simple as a pin can tell you a whole story about someone or something.
____________
Kevin Straw, MBAC Director
When people walk past my garage, inevitably the question is uttered, "Uh, do you have enough surfboards?" Fair enough, with about 30 boards of different shapes, sizes and colors stacked on racks, it's a valid question. But the answer is no, you can't really have too many surfboards. With surfing, the conditions are constantly changing — the tide, wind speed and direction, swell size and direction, the size of the crowd in the water, and waves break differently at every beach based on the bathymetry (contours of the sea floor). And like listening to music, with surfing sometimes your mood determines what type of board is the best fit for the moment.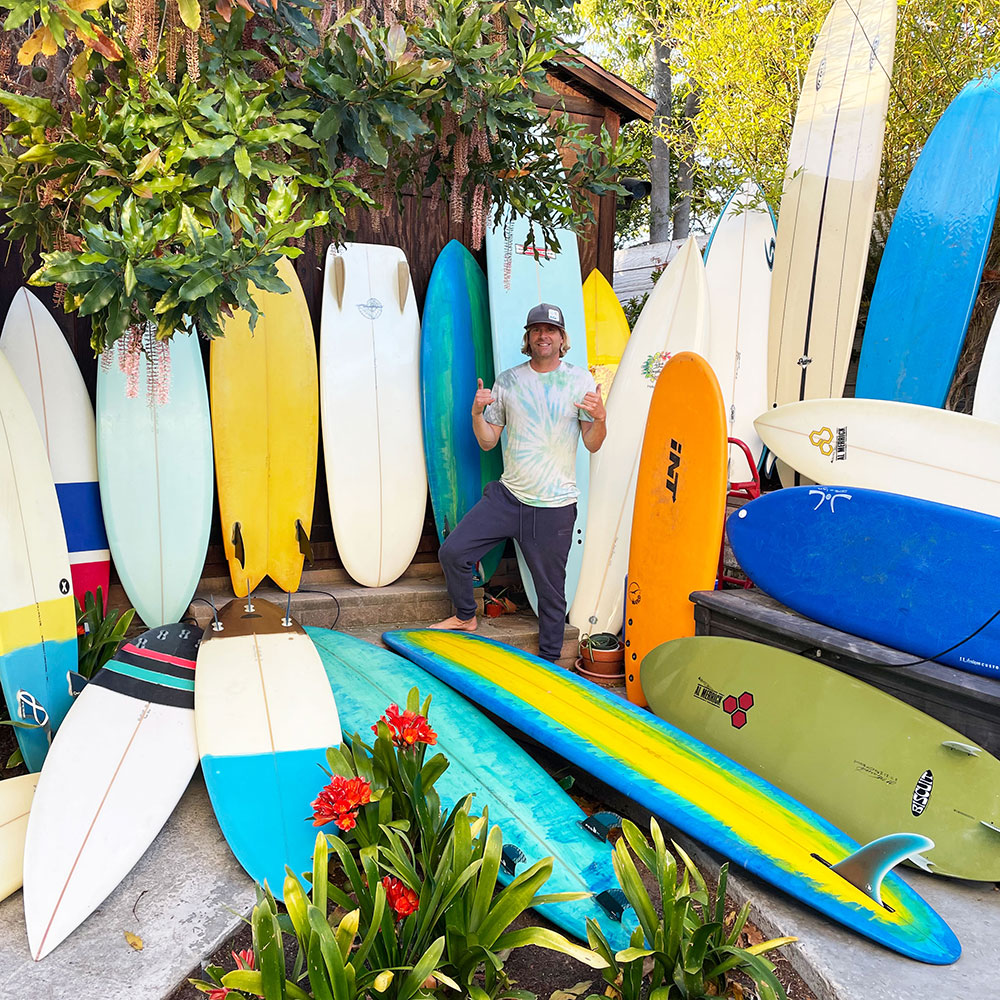 My surfboard collection began long ago when my parents gave me my first board for Christmas, a Blue Hawaii shortboard with some sweet 80's neon graphics. Since then, I've developed a love for surfing and sharing the surfing experience with others at Mission Bay Aquatic Center. About 10 years ago I began designing and shaping my own surfboards out of the shed in my backyard. Making my own boards has expanded my knowledge on design and construction as well as given me a creative outlet to further explore my passion for surfing in a different way. I've shaped 20 surfboards including boards for my good friends Amanda Grant and Mark Zakrzewski. My most prized surfboards are two Dick Brewer big wave guns. Dick is a legend in surfboard shaping (think Big Z from Surf's Up only in real life). I use one of them when the waves are double overhead at Sunset Cliffs and the other has been on my living room wall waiting for the most epic swell of the century!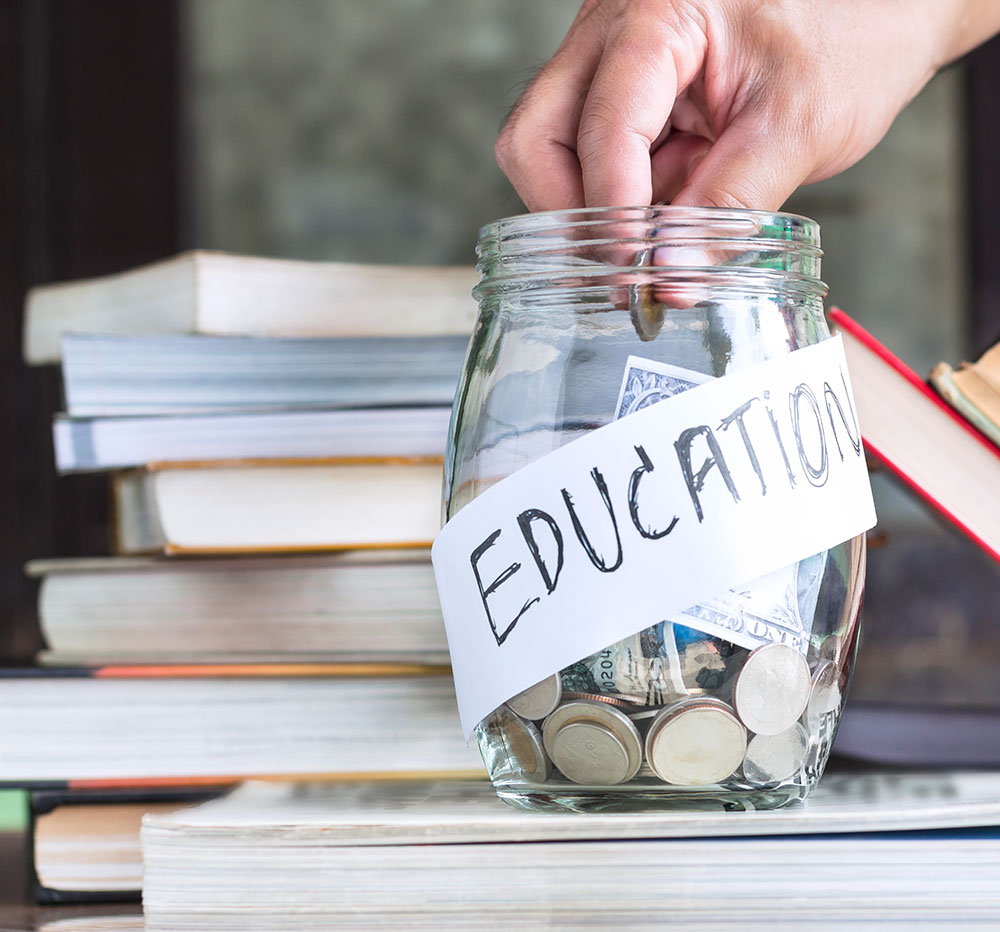 A.S. Scholarship
Attention students!
A.S. student employees! You are eligible to apply for the following two scholarships! For more information and to apply, read below:
____________
Spring 2022 A.S. Part-Time Student Employee Scholarships
Applications are now being accepted for the Spring 2022 A.S. Part-Time Student Employee Scholarships! Three $500 scholarships will be awarded to A.S. part-time student employees and applicants will be judged equally on academic achievement, essay and campus/community contributions.
Applicants must complete the application and submit an essay that answers the following prompt:
The essay should briefly provide information about the employee, and their academic and career goals. The essay should focus on how working at A.S. has contributed to their personal and/or professional development in order to enable them to reach these goals.
The application and requirements may also be accessed directly on the A.S. Business Services - HR Tab website. The deadline to submit applications is 4:30 p.m. on Friday, April 8. Good luck!
____________
McCarron Exemplary Service Endowed Scholarship
A.S. student employees! You are eligible to apply for the McCarron Exemplary Service Endowed Scholarship! The McCarron Exemplary Service Endowed Scholarship is a $1,500 scholarship awarded to the A.S. student employee who best exemplifies the service ideals of A.S. through exceptional performance and is a contributing member of the SDSU community. Established in 2014, this scholarship is a generous annual gift from Tom & Virginia McCarron that is awarded in the spring semester each year.
All applicants must answer this specific essay prompt:
Submit a 500 word essay describing how your employment at Associated Students has contributed to your personal success as an SDSU student and helped you to make an impact on the SDSU campus/community.
We highly encourage you to apply if qualified via Aztec Scholarships once the application is open starting April 18. The deadline to apply is May 13, 2022.
A is for Art
The annual A is for Art auction and reception is back for its 18th year!
A is for Art is a program of the SDSU Children's Center that showcases the amazing potential for creative expression by children between six months to five years of age. Each classroom studies an artist who lives and works in the United States. Working with their teachers, the children use the materials, techniques and processes that that artist uses to create their own masterpieces.
Over the 18 years that the event has taken place, the children have used an amazing variety of mediums — from acrylics to oil pastels, ink to watercolors. Sometimes, the tools and methods have been very unusual such as using hair blower dryers to "move" watercolors on a wet canvas or brooms to sweep acrylics on and off paintings! Rollers, brushes, sponges and even toy cars have all been used to apply a variety of paints, each producing their own unusual texture.
Not only do the children learn about art and artists, but they learn to share and work as a team. Each classroom creates one 24" by 36" painting, with every child helping in the process. The results are truly wonderful.
The 18th annual A is for Art auction and reception will be held on campus in the Aztec Student Union Courtyard on April 30, at 6:00 p.m. The evening will include a live auction of 10 paintings created by the children, opportunity drawings, hors d'oeuvres and drinks.
A is for Art is for adults only and is open to the public. Tickets are $20 and available at childcare.sdsu.edu/aisforart. Get ready for a night full of fun and art!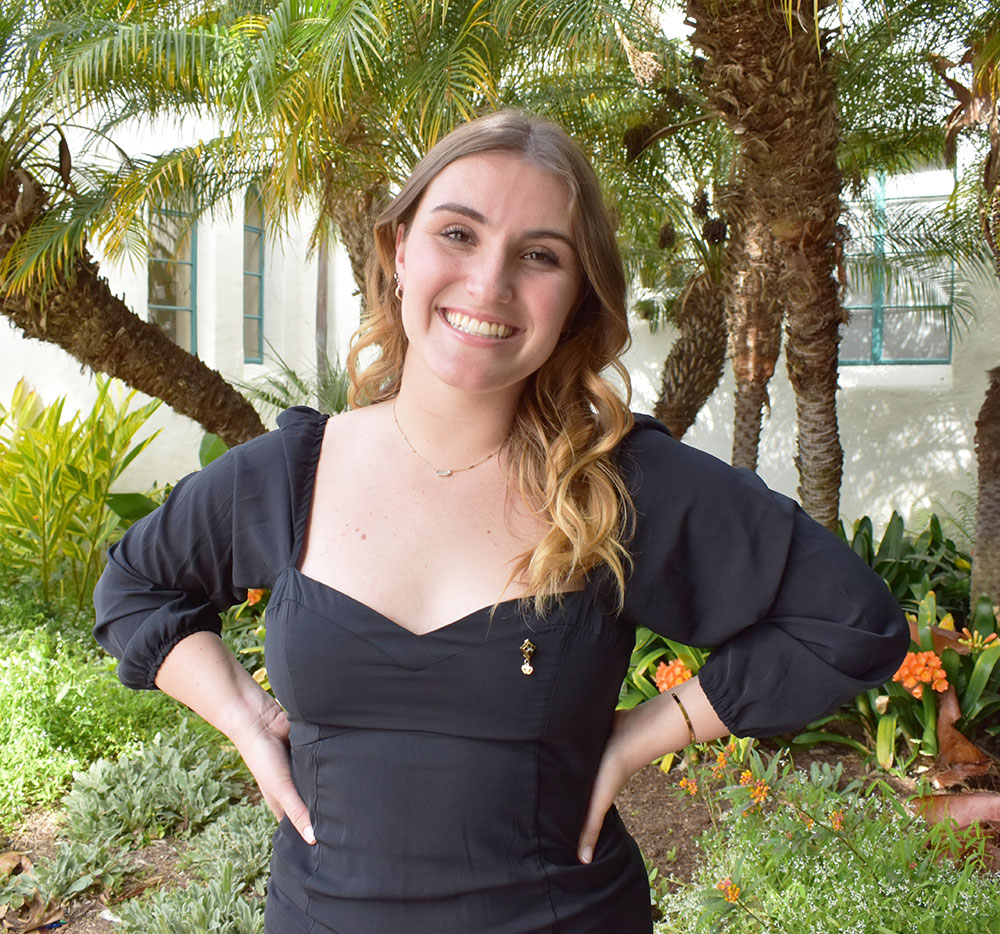 15 Questions
Becky Laurence
What is your name, job title and major?

Becky Laurence, Lead Office Assistant for A.S. Business Management major with an emphasis in Human Resource Management.

Which A.S. department do you work in?

I work in the Government Affairs department. The Office Assistants are at the front desk and we answer phones, help with student organization banking, supply ordering and other projects around the office!

How long have you worked for A.S.?

I have worked for A.S. since August of 2021. About 7 months now.

What is your favorite part of working for A.S.?

I love being in a space and around people who are working for the betterment of the students! It is really inspiring to see the full-time staff, execs and student leaders working together. I also love the flexibility and convenience that working for A.S. has given me. It is really doable to be a student, have extracurriculars and work here.

What was the last movie you saw? Thumbs up or thumbs down?

I saw "Uncharted" in the theaters a couple of weeks ago. I really liked it — mainly because any movie with Tom Holland in it is my favorite movie.

Which famous person from history would you most like to meet?

I would love to meet Jackie Kennedy. I think she was one of the most influential first ladies and did a lot of good for historical preservation and the image of the White House. She also seemed very personable and I feel like we would have a great conversation.

What is your favorite book?

My favorite book at the moment is "Where the Crawdads Sing" by Delia Owens. This was the first book I have read for fun in a long time and I read it with my mom and grandma. It is a complex story that had me fully engaged the entire book.

What type of pets do you have and what are their names?

I have a dog named Remi who lives at home with my parents in the Bay Area, and a betta fish named Moscato who lives with me here in San Diego.

Do you like to cook and what is your specialty?

I like to cook but I'm not very good at it. My specialty is grilled cheese.

What three things are always in your refrigerator?

My refrigerator always has milk for my mac and cheese, some kind of salad from Trader Joe's and frozen chicken nuggets.

If you could go back or forward in time, where would you go?

If I could go anywhere in time, I think I would like to go back to 2000 years ago and just explore the natural beauty of the world. I would like to explore untouched national parks and see species that are now extinct.

"Most people don't know that I like to…

…embroider in my free time. It was a quarantine hobby I picked up and still love to do it when I'm feeling creative."

When you visit the Zoo, which animal do you make sure you see?

I always make sure to see the zebras when I visit the zoo. There's no special reason, I have just always loved zebras ever since I was little.

What's the best concert you've been to and why was it so good?

I went to the Life is Beautiful festival in Las Vegas last September and was able to see so many amazing artists. My top two favorite sets at the festival were Green Day and Glass Animals. I listen to both of these bands all of the time and the energy they brought to the crowd was incredible. It was also really cool to be around that many people after so long in quarantine!

If you could have a superhero power what would it be?

If I could have any superpower, I would like to shapeshift. Not to change into different people, but to change into a bird or a fish to explore areas I wouldn't be able to otherwise.
Calendar
APRIL 2022