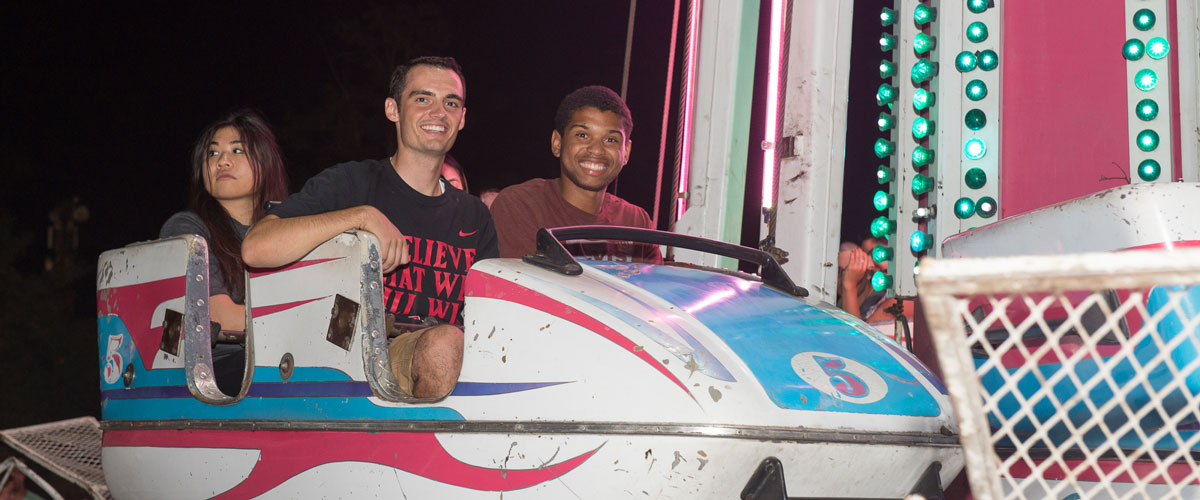 About Us
The Night is Yours!
Looking for Free, Late Night Fun! Then head out to Aztec Nights! Each semester, SDSU hosts a fabulous line-up of events, just for you! Most happen during the first weeks of each new semester.
Enjoy
Nighttime
Fun-Fests
Aztec Nights is sponsored by Associated Students and the divisions of Student Affairs and Business & Financial Affairs.
Templo del Sol — An annual fall semester initiation for new Aztecs, to welcome new students into the SDSU family. Learn the fight song, meet new friends, and get into the Aztec groove!
Campus Carnival — Come out to Campanile Walkway for rides, games, bright lights, carnival snacks, and more!
Screen on the Green — What's more fun than an outdoor movie with popcorn and new friends? Bring a blanket and camp out for the evening!
Midnight Study Break — Free to all SDSU students at the end of each semester. Take a break from studying and enjoy late-night breakfast treats, prizes, and study tips to help get you through finals!
More Info
Aztec Nights provides a vibrant campus nightlife with fun, social opportunities for all SDSU students. For daytime events, visit the Welcome Week page.
Please note: a valid Red ID is required for SDSU students to attend.
Most events take place Thursday, Friday, and Saturday nights between the hours of 9pm and 2am, during key times of campus celebration. Aztec Nights began in 2008 and is quickly becoming a much-anticipated, much-loved campus tradition.
Welcome to SDSU... Aztecs new and old!
FREE LATE NIGHT FUN