Sep '19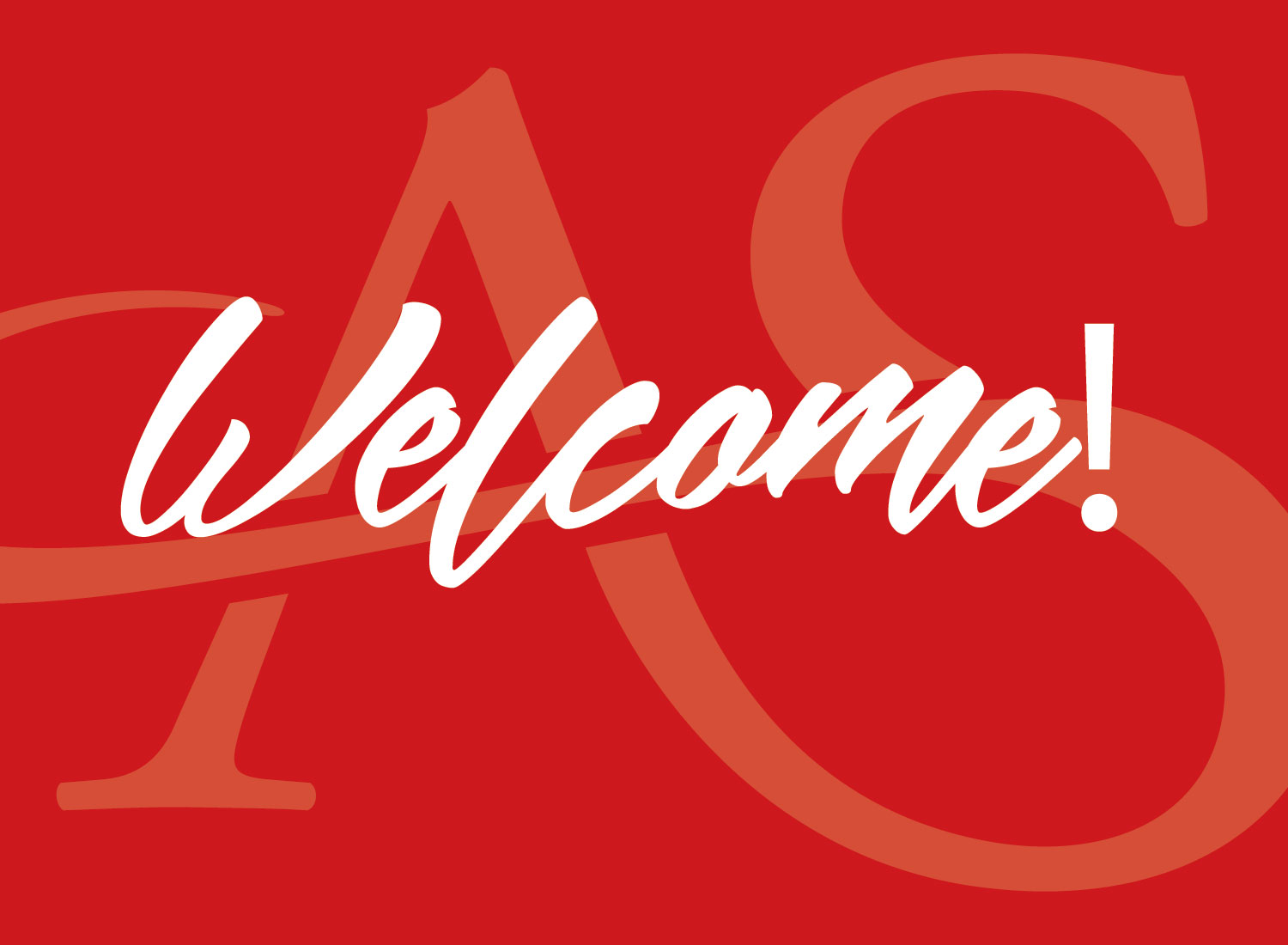 Welcome!
Fall 2019
We are excited to welcome you to the new school year!
Our vision for this year is A.S. CARES, with CARES being an acronym for Connect, Advocate, Resource, Empower and Sustain. By doing these five things, and so much more, with heart, we will show students through our actions that A.S. is here for them and truly cares about them. We will be reaching out to students in new and direct ways to ensure we are including and listening to all students, because students are the reason we are all here.
We are ready to get to work! We look forward to collaborating with you and making this a meaningful and memorable year. Thank you for all that you do for A.S. and we wish you your best year yet!

— Christian and Christina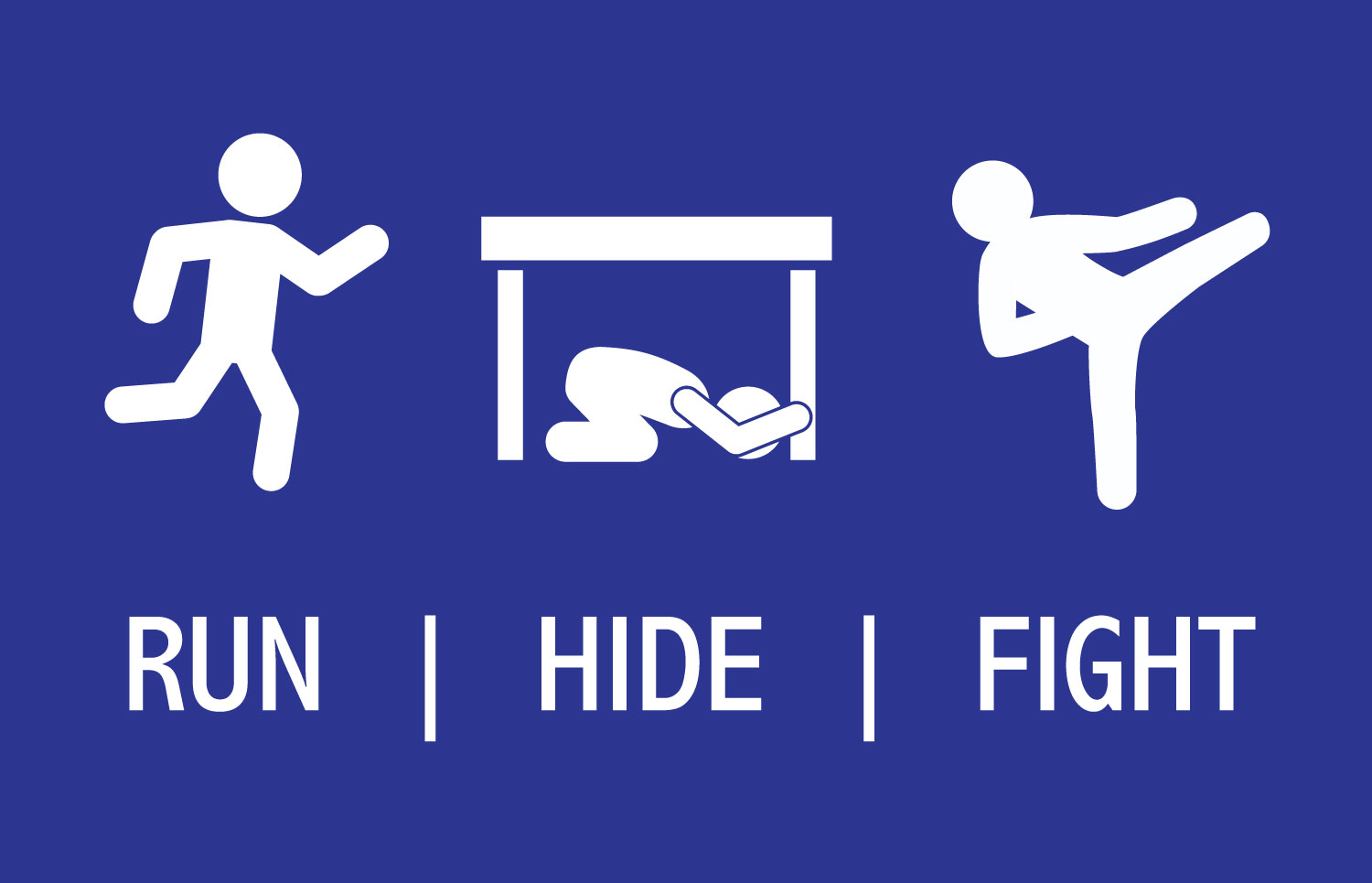 See Something, Say Something
Safety Day Follow-Up
An active shooter is an individual actively engaged in killing or attempting to kill people in a confined and populated area; in most cases, active shooters use firearms(s) and there is no pattern or method to their selection of victims. Active shooter situations are unpredictable and evolve quickly. Because these situations are often over within 10 to 15 minutes, before law enforcement arrives on the scene, individuals must be prepared both mentally and physically to deal with an active shooter situation. If one should occur, immediately choose the best way to protect your life. Very quickly, make your best determination of what is occurring and which of the options below will provide the greatest degree of security.
RUN, HIDE, FIGHT
Run and escape, if possible.
Identify an escape route and safely evacuate the area.
Leave your belongings and get as far away as you can.
Take charge if necessary, and help others if and when possible.
Indecision can cost lives; act quickly to remove yourself from harm.
Hide if escape is not possible.
Lock the doors.
Relocate to a place away from the attacker's view.
Look for items to barricade entry points.
Turn off the lights.
Close blinds and curtains.
Silence cellular devices.
Use items such as desks and cabinets to provide cover.
Do not huddle together.
Maintain awareness and be prepared to fight.
Fight, as an absolute last resort.
Identify items that can be used as a weapon, such as fire extinguishers, chairs, heavy bags, skateboards, hot coffee, and water bottles.
Work together to combat the attacker and be as aggressive as possible.
Commit to your actions until you overcome the threat.
ALERTS
To help prepare yourself, visit sdsu.edu/sdsualert to ensure you are signed up for SDSU Alerts.
EDUCATE YOURSELF
Visit police.sdsu.edu/activeshootersafety for online resources and more information.
Watch the SDSU Active Shooter Training Video.

SEE SOMETHING, SAY SOMETHING
Always call 9-1-1 for emergencies
University Police Department Non-Emergency - (619) 594-1991
University Police Investigations Tip Line - (619) 594-4636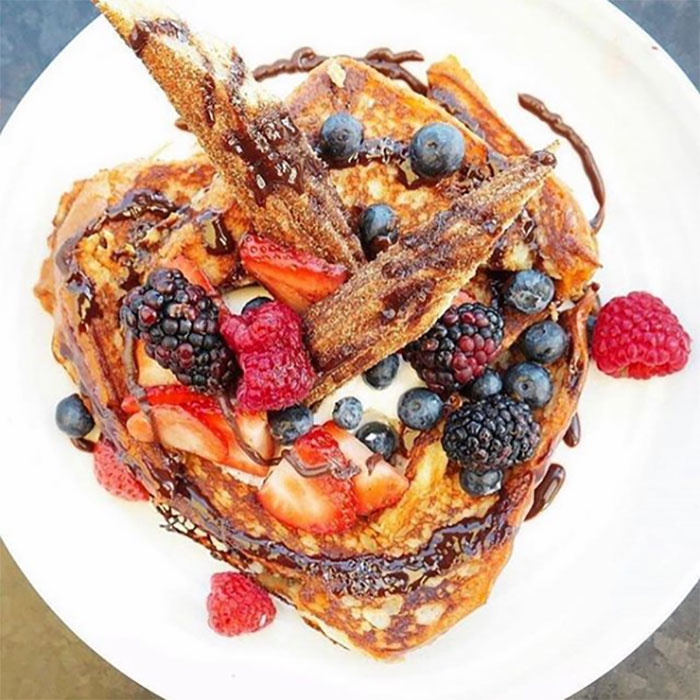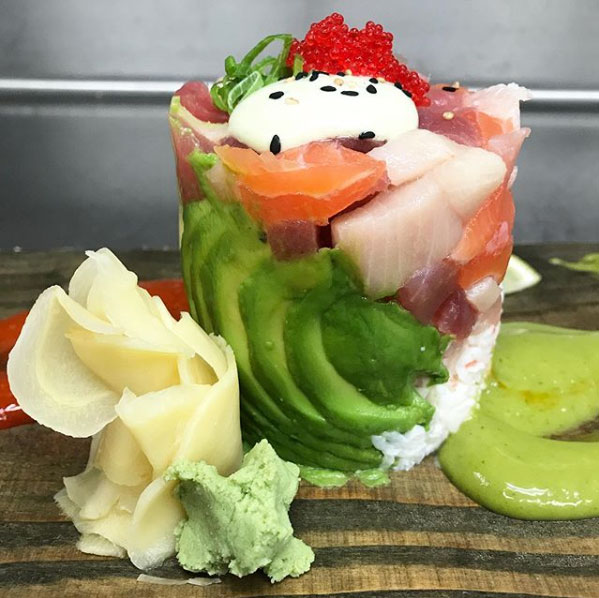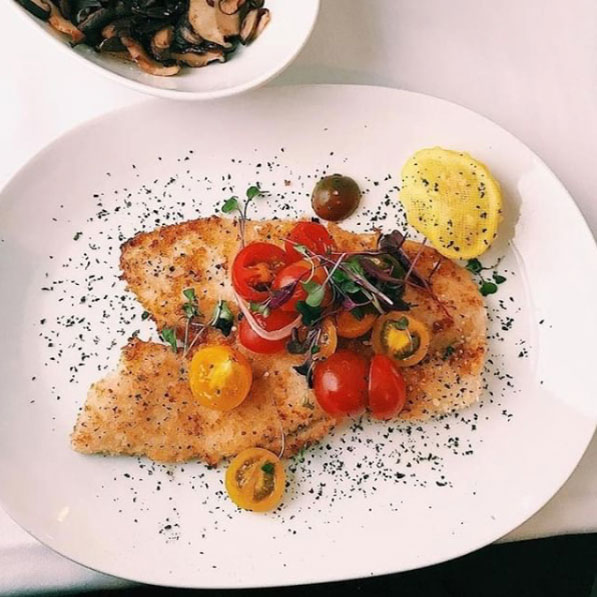 More Favorite Restaurants
Back by popular demand...
Here are a few more San Diego restaurants recommended by A.S. staff members.
"Today we are bringing incredibly fresh Mediterranean cuisine inspired from the heart and kitchen of our family to share with you at our favorite place to enjoy life together, our table." — Luna Grill website
2963 Jamacha Rd, El Cajon
Submitted by: David Peña, SDSU Children's Center Master Teacher
"Let our master chefs dazzle you with their samurai-like swordsmanship as they skillfully slice, dice, juggle and entertain, while preparing delicious entrees on a sizzling Teppanyaki grill." — Shogun website
5451 Kearny Villa Rd, San Diego
Submitted by: Baylee Fuller, SDSU Children's Center Associate Teacher
"An eatery for happy hour at the rooftop patio which boasts excellent views of La Jolla Cove. Its casual and upscale at once, with drink specials and appetizers at half-off making it a huge value. Ask for table #33. If you want to splurge on a date night. Table #111 in the main dining area, right on the corner of the restaurant gives you the best view of the Cove. I recommend the Filet Mignon Carpet Bagger Style, which is a 10oz steak with 5 deep fried Bluepoint oysters and topped with Bearnaise sauce. A side of Crab Fried Rice or Lobster Mac 'n Cheese completes the meal." — Rico Salgado
789 West Harbor Drive, San Diego
Submitted by: Rico Salgado, Viejas Arena Ticket Office Supervisor
"Excellent fish done to perfection – including daily specials on fresh catch and amazing fish tacos – is served in overflowing portions at this bustling Bay Park seafood spot." — Zagat
4121 Ashton Street, Bay Park, San Diego
Submitted by: Dawn DiNardo, Aztec Recreation Office Supervisor
"Great for breakfast, brunch or lunch on the weekends. Best Eggs Benedict I have found. They make all their own pastries from scratch." — Jay Harn
126 W. Grand Ave., Escondido
Submitted by: Jay Harn, Daily Aztec General Manager
"Eat red for a healthy heart. Eat green to purify and detox. Eat purple for longer life. Eat yellow for your joints. Eat white to support healthy bones." — San Diego Blenders Website
6345 El Cajon Blvd, San Diego
Submitted by: Bernadette Tan, Aztec Recreation Graphic Artist
"Fans head to this understated destination for fragrant bowls of pork tonkotsu ramen with house-made noodles and Japanese beer. The snug locale in a busy Kearny Mesa strip mall is the first U.S. outpost of the popular northern Japan-based chain." — Zagat
8199 Clairemont Mesa Blvd, San Diego
Submitted by: Veronica Perondi, A.S. Programs Coordinator
"We built our foundation on sensational flavors, kept our recipes simple, clean, natural (naked as we like to call it), and noticed how good we felt and looked. We have infused cuisines from all around the globe, to please your palate, body and mind. So let us invite you to experience what our environmentally conscious and globally influenced Naked food is all about." — Naked Café website
106 S. Sierra Ave., Solana Beach
Submitted by: Brandi Tonne, Government Affairs Coordinator
"Mizu is a family owned restaurant that serves delicious and fresh Japanese food & Korean Food with an American influence in a family atmosphere." — Mizu website
850 W. Mission Bay Dr., San Diego
Submitted by: Lauren Hooley, Finance Manager
"Viewpoint opened up a couple years ago right on the edge of the San Dieguito Lagoon. Besides good beer, they provide really good food at a reasonable price. Their black bean burger is delicious. My favorite 'go to' is the black lime dry rub wings with truffle fries. And their indoor/outdoor space makes it really enjoyable on a sunny warm day." — Viviana Rodriguez
850 W. Mission Bay Dr., San Diego
Submitted by: Viviana Rodriguez, Accounts Receivable Technician
"We are pleased to present our guests to an experience they will truly never forget, from our boundless menu options consisting of freshly prepared meats, seafood, and vegetables, to our refreshing & traditional Korean side-dishes; you will experience a wide array of complex flavors that will truly give your palate a new perception of taste." — Gen Korean BBQ website
10765 Westview Pkwy, San Diego
Submitted by: Adrian Altez, A.S. Graphics Assistant
Photo captions, clockwise from upper left:
Hundred Proof: HP Burger: English Cheddar, HP spread, pickles, onions, Iceberg lettuce, served with fries
Viewpoint Brewing Co.: Churro French Toast - brioche, cinnamon sugar, mexican chocolate sauce, fresh fruit, topped with churros
Eddie V's: Parmesan Sole - Parmesan crusted sole with heirloom tomato salad, lemon garlic butter sauce
Bay Park Fish Co: Sushi Tower - tuna, salmon, albacore, yellowtail & krab with avocado, wasabi mayo & tobiko, served with wonton crisps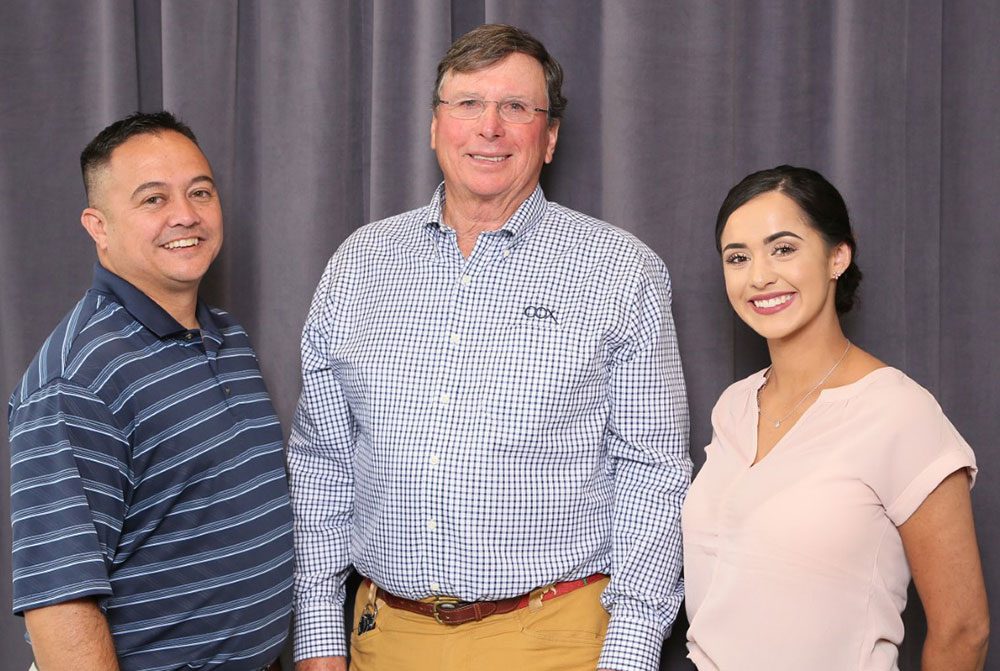 15 Questions
Kaylani Brown
What is your name, job title and major?

My name is Kaylani Brown, Operations Lead, an Art – Multimedia major currently working at SDSU Associated Students and Aztec Shops.
Which A.S. department do you work in?

I am an Operations Lead within Associated Students. The past 3 years have consisted of setting up events and creating a safe, fun, and efficient experience for our guests and students strolling through the union. This past summer I took on the role of two hats and helped out at Reservations Desk, where I got to see the process of working one-on-one with clients and every detail for creating memorable events for our guests.
How long have you worked for A.S.?

This school year will be my fourth and last year working for A.S. A.S. was my first college job, starting my very first day of freshmen year, and it definitely has positively impacted my life since.
What was the last movie you saw? Thumbs up or thumbs down?

I watched the movie, "Midsommar." One word to describe it – Oh my! I guess two words.
If you won $5 million what would you do with it?

Majority of it I would give to my family to help them with whatever it is they need – sibling's college, bills, etc. However, a million of it I would love to create something similar to the Atlanta BeltLine I visited in Atlanta. The Atlanta BeltLine is a sustainable redevelopment project that is transforming the city and impacting lives is so many different ways. It connects 45 in town neighborhoods via a 22-mile loop of art, shops, homes, trails and so forth. I would like to create something similar in my home town, San Diego.
What city would you most like to visit or visit again?

I would love to visit Atlanta again. I went in the summer 2019 to the 10th anniversary celebration of the Cox Jim Kennedy Scholarship (Editor's Note: Kaylani received this scholarship in 2016) and I was breath taken by the nature, food, and art in the city. They have the Coca-Cola Museum, largest indoor aquamarine, amazing history and the Cox HQ, which my dad works for.
What do you want to be when you grow up?

I hope to become a graphic designer whether it is for a company (Disney, Google, etc.), or my own company someday. In addition to that, I hope to open up my own art studio where I can create and design freely as well as others can create, buy, and showcase art. Art to me is not a job, but a passion. Art allows me to express my emotions when I can't with words. Art amazes me when I think I've seen it all. Arts and crafts have always been in my life, and I hope to inspire others to find their passion and their inner artist.
Do you like to cook and what is your specialty?

If you count microwaving as cooking, I am pretty good at it, all jokes aside, I love cooking pasta and mixing it up.
If you could go back or forward in time, where would you go?

I would go back in time to when my grandma, Sofia, was alive. My grandma passed away from cancer when my mom was only a toddler, so I never got to meet her. My middle name is named after her and I just want to make her proud. My family has no idea where I got my art skills from, maybe it was from my grandma Sofia.
"Most people don't know that I like to…"

Everyone knows how much I love anything related to art and that I have got some creative skills — but did you know I got skills on the basketball court as well.
If you could have a superhero power what would it be?

Telepathy/Mind Control. I'm just saying, how awesome would it be to mind control the lady at Panda Express to give you more orange chicken in your bowl.
If you could be any color in a box of Crayola Crayons, what color would you be?

Team red all the way. I was born on Valentine's Day, so I have this weird obsession with red. Red hearts, red dresses, red painting you name it. I think red is a beautiful color that to me represents passion, love, adventure, determination and integrity.
What is one of your favorite things to do on the SDSU campus?

You can either catch me at the student union or art building every day, there's no in between. I love to sit down, put on some good music, and paint away or grab some Starbucks, sit at the union, and socialize with the many faces that come through the union.
What is your favorite part of working for A.S.?

The positive atmosphere within A.S. is my favorite part about working here. I am always greeted with smiles. I'm always being checked up on whether it is about work, school, or my own well-being. Most importantly I am always pushed to be my best.
Which A.S. staff member has inspired/supported you the most?

Honestly, it is hard to pick one person because each individual within the A.S. full-time and part-time staff have impacted me positively in one form or another, sometimes not even realizing it. Shout out to Mollique and Antonio, who always push me to be my best and remind me that self-love and my health is important too. Shout out to Dan, Flora, and Liza from Reservations for teaching me valuable new things such as event planning. Thank you Stephanie and everyone for acknowledging my hard work and believing in me every day. Shout out to Associated Students in general, my college experience would not be as memorable without them..
Calendar
September 2019