May '22
Aztec Achievement Awards 2022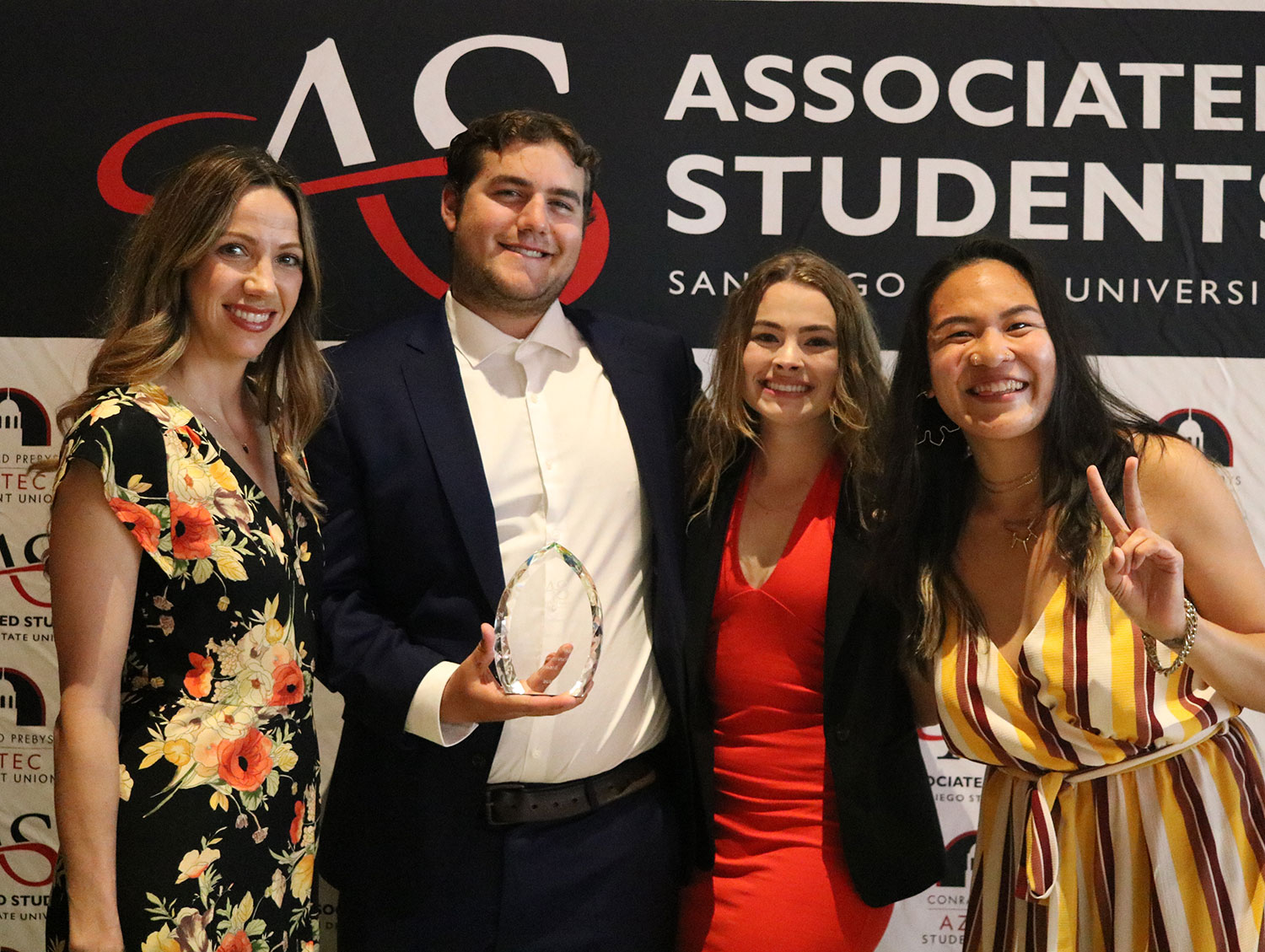 Aztec Achievement Awards Winners
The Aztec Achievement Awards honors SDSU students, faculty, staff and community members for their excellence and contributions to San Diego State University. Congratulations to the 2022 Aztec Achievement Award winners and thank you for all you have done to better our SDSU community!
Daniel B. Nowak Outstanding Student Service Award
Tito Hernandez
Daniel P. Goodrich Award
David Gamble
Outstanding Graduate Student Service Award
Haleemah Zulali
Shuford C. Swift Most Outstanding First-Year Student Award
Katarina Hernandez
Dean Herbert Peiffer and Dean Margery Warmer Award
Jordan Valdez
Darren Wilson
Harvey Goodfriend Award
Deborah Sandy
Outstanding Alumni Award
Diana Lara
Outstanding Student Organization Award
Aztec Adaptive Sports
Dan R. Cornthwaite Luminary Award for Outstanding Advising Award
Matthew H. Garcia
Aztec Pride Award
Jacinda Molina
Heart-Led Leader Award
Dylan Dunn
Logan Watson
Outstanding A.S. Board, Committee & Commission Award
Aztec Student Union Board
Outstanding College Council Award
College of Engineering Student Council
A.S. Board Member of the Year Award
Shelbie Nelson
Presidential Leadership Award
David Gamble
Dr. Lisa Gates
Simran Jain
Dr. Aniesha Mitchell
Dr. Feion Villodas
Mark Zakrzewski
The Dr. Stephen L. & Mrs. Susan K. Weber Lamp of Leadership Award
Austin Barber
Skylar Nicole Christie
Karina I. Esteban
Angelo-Jun Ongoco Gozon
David Gamble
Sarah Hoang
Stephen Jackson
Zachary Labus
Meghan Mahoney
Jacinda Molina
Shawki Moore
Alexia (Lex-O) Oduro
Jennifer C. Schenkenfelder
Ashley Tejada
Kole Wellenstein
Darren Wilson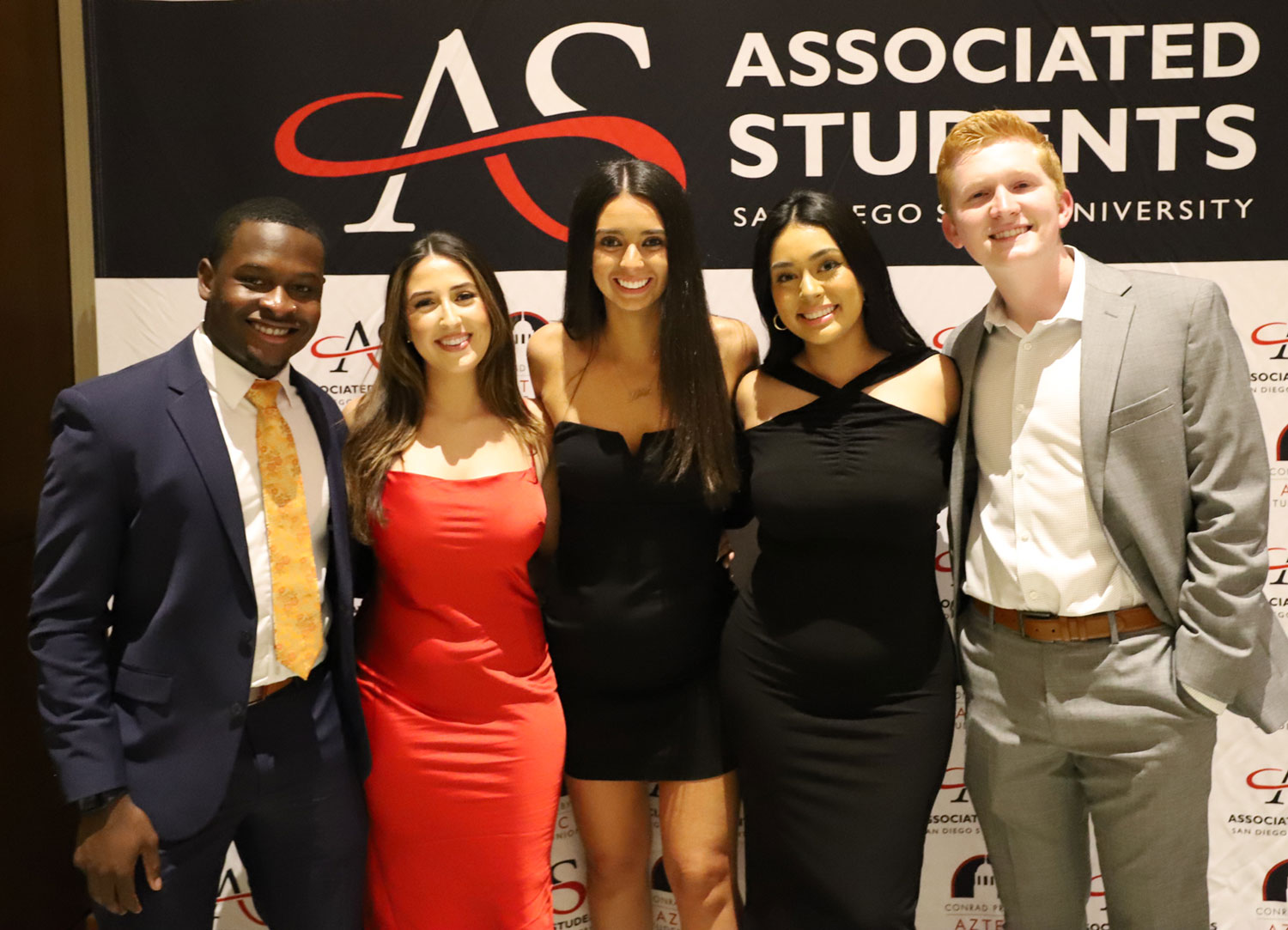 Reflections
2021-22 Executive Officers
Ashley Tejada, A.S. President
What was your favorite memory in the past year?
Speaking at the partial opening of the Aztec Recreation Center was completely surreal. Watching this project come to fruition since my first year on campus, serving on the Transform the ARC leadership team, and connecting it to the present day ribbon cutting was amazing. It was a pivotal example that Associated Students staff along with leaders can truly advocate for something great.
I am most proud of myself for accomplishing _____ during my term.
I am most proud of myself for accomplishing graduate student representation along with advocacy for a smooth return to campus during my term. It was challenging to return, but with dedication and support from all of Associated Students, we came back even stronger than before we left the campus in 2019.
If I had to describe my term in 3 words it would be…
Advocacy, Progress, Impact.
What is one thing you learned in A.S. that you will take into your future endeavors?
Associated Students has taught me the beauty in collaboration. Across our facilities, committees, commissions, boards and staff, anything is possible. The concept of "coming together to do what is right" is something I will take with me the rest of my life.
What are your future plans?
I plan on attending my second year of graduate school in the program for Post-Secondary Leadership. I see my future as dynamic — with the perspective of "all doors are open as long as I keep moving forward to make positive change."
__________
Karina Esteban, Executive Vice President
What was your favorite memory in the past year?
Hanging out in the office and chatting and laughing with everyone — it's the little things.
I am most proud of myself for accomplishing _____ during my term.
I am most proud of creating the Your Mental Health Matters initiative that initiated conversations around traditionally stigmatized topics and also pushed awareness and accessibility to mental health resources.
If I had to describe my term in 3 words it would be…
Chaotic, Educational, Transformative.
What is one thing you learned in A.S. that you will take into your future endeavors?
Professional skills: how to be more assertive, be a better listener, ask hard questions and delegate.
What are your future plans?
I am pursuing a marketing career in the fashion or beauty industry.
__________
Shawki Moore, Vice President of External Relations
What was your favorite memory in the past year?
My favorite memory from the past year was hosting the Shared Governance Town Hall, where students got to ask high-level administrators questions to gain more information about the inner workings of our university.
I am most proud of myself for accomplishing _____ during my term.
I am most proud of the tremendous growth of our social media that has made it more inclusive and interactive for students.
If I had to describe my term in 3 words it would be…
Life-changing, fun and impactful.
What is one thing you learned in A.S. that you will take into your future endeavors?
I would love to continue using the professional development that this organization has taught me through running meetings and other skills.
What are your future plans?
Well, A.S. is stuck with me for another year. As President, I hope I can maintain the standards of the organization and continue to impact student lives.
__________
Austin Barber, Vice President of Financial Affairs
What was your favorite memory in the past year?
One of my favorite memories from the past year, although there are a lot of them, was the A.S. Full-Time Staff Holiday Party. It was a great experience to see so many different areas of A.S. all together in one place. I enjoyed talking to many people I didn't get the chance to see on a weekly basis.
I am most proud of myself for accomplishing _____ during my term.
I am very proud of helping lead the transition of Aztecs Rock Hunger back to in-person. It was definitely a complex project and was only made possible by the help of so many of you all, but seeing the final numbers flip and the impact we were able to make on this campus regarding raising awareness of food and nutrition insecurity was a moment of pride. I am also very proud of the team and organization's flexibility in this time. Returning back to a more normal status quo definitely presented itself with its challenges across the board, and everyone was able to adapt so well.
If I had to describe my term in 3 words it would be…
Fulfilling, fast-paced and unpredictable.
What is one thing you learned in A.S. that you will take into your future endeavors?
One thing I learned in A.S. that I will take into my future endeavors is how to listen better to one's needs and concerns. In the role, you get to talk to many different types of people from different backgrounds, whether that be students, faculty or staff. A.S. has helped me tremendously in learning how to better serve others by listening and finding the best solution for that specific individual's experience, needs and concerns.
What are your future plans?
I will be attending SDSU for two more years to finish out my double major in business finance and political science and double minor in honors' interdisciplinary studies and leadership. Additionally, I will be interning as a wealth management intern at Morgan Stanley for the summer and the following school year.
__________
Jennifer Schenkenfelder, Vice President of University Affairs
What was your favorite memory in the past year?
Our first Your Voice Matters push week met new levels of engagement from students that this initiative has never seen before. Getting our University Affairs Board members in front of students in the classroom created so much opportunity for tangible change to happen, student to student. I am so proud of them and that pride makes it my favorite memory.
I am most proud of myself for accomplishing _____ during my term.
I am proud of myself for strengthening the relationship between A.S. and our academic administrators. I always pride myself on being an authentic and genuine leader because I feel that we can accomplish the most when we are honest with each other. This approach has also allowed me to gain some amazing mentorships from some of our most dedicated administrators. (Shoutout to Dr. Joanna Brooks, Dr. Aniesha Mitchell and Dr. Hala Madanat)
If I had to describe my term in 3 words it would be…
Transformative, because I am walking away from this position not only as a better leader, but a better woman and friend. Exhausting, because being an executive officer is incredibly draining. And fulfilling because although it was exhausting, I know I am walking away from this campus knowing that I have made a positive impact for generations of Aztecs to come.
What is one thing you learned in A.S. that you will take into your future endeavors?
Never be afraid to stand up for what you believe in. It can be incredibly difficult to walk into a new space and voice your concerns, but you are making a difference in not only your own life, but in the lives of those around you.
What are your future plans?
The grind never stops! I am preparing to apply for medical school and will be taking the MCAT in September. In the meantime, I am planning to travel to Morocco to see my mom's family and take some well deserved mental rest. I will be in San Diego for another year and will definitely be soaking up some rays while I get ready for my next chapter in life. Regardless of where I end up, I will always have my A.S. and SDSU family in my heart. Go Aztecs.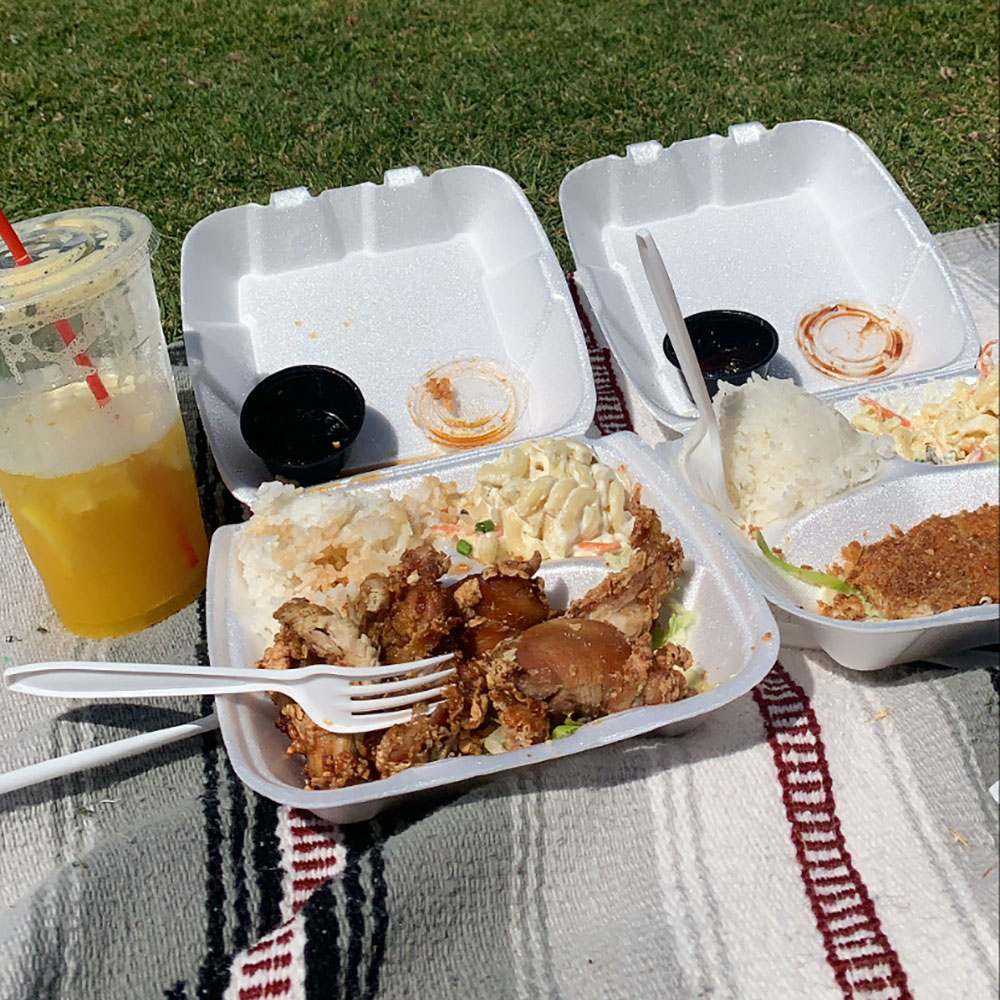 Asian/Pacific American Heritage Month
Happy Asian/Pacific American Heritage Month! Asian/Pacific American Heritage Month has been celebrated since 2009 to recognize the contributions and influence of Asian Americans and Pacific Islander Americans to the history, culture and achievements of the U.S. To celebrate, I thought I'd share my favorite Asian and Pacific Islander restaurants across San Diego. Let me know if you try any of my recommendations!
Olivia Li, Marketing and Communications Specialist
JAPANESE
Menya Ultra (Kearny Mesa, Mira Mesa, Hillcrest)
If you want ramen, go to Menya Ultra! This place has won a ton of awards and rightfully so because ramen broth is probably the best I've ever had! When you're there, make sure to get the tonkotsu ramen and the negi pon, which is fried chicken, mayo, green onions and ponzu sauce. Make sure to join the Yelp waitlist before going because the lines can get super long!
Chopstix (Kearny Mesa)
This place is super good for some cheap but delicious Japanese food! I go here anytime I'm craving some udon or tempura. I just went here recently with some friends from Japan and they said this place tastes super authentic. The servers are super nice and I've gone here so many times that we've become friends!
KOREAN
Tofu House (Kearny Mesa, Mira Mesa)
If it's a cold and rainy day, you have to try one of the tofu soups here. The bowl of soup comes out bubbling hot and is served with a bowl of rice. They also are known for their hot stone crispy rice pots and my boyfriend really likes the hot stone meat party that has marinated beef rib eye, beef short ribs and spicy chicken. Even though San Diego doesn't get too rainy or cold often, I still love to come here year around.
Gen (Mira Mira)
If you want all you can eat Korean barbecue, you have to go to Gen. My favorite things to order are the beef brisket, Hawaiian steak, Hawaiian pork belly, beef belly and jap chae. I've actually been to seven different Gen locations across California and the San Diego location is my favorite. Don't forget to join the Yelp waitlist here too!
CHINESE
Tasty Noodle House (Kearny Mesa)
This place specifically focuses on Shanghainese Chinese food and is some of my comfort food. This place is good for groups so you can do family style and try a bit of everything but they are known for their shanghai grilled pork buns and ginger scallion beef with noodles. My other favorites include the beef noodle soup and the stir fry pork and vegetable rice cakes.
Din Tai Fung (University City)
Though expensive, Din Tai Fung is definitely worth the hype. They are known for their great service and the xiao long bao, which are pork soup dumplings that are super juicy and flavorful. Whenever I go, I always get the sweet and sour pork baby back ribs, sauteed string beans with garlic, braised beef noodle soup and pork chop fried rice. If you go, you also have to get the chocolate and mochi xiao long bao for dessert. I don't know exactly how to describe it but it's chocolate gooey goodness. The lines are super long, so I definitely recommend trying to get a very rare reservation or putting your name down and shopping around UTC for a little bit.
VIETNAMESE
Phong Trang (Kearny Mesa)
Phong Trang has probably the best Vietnamese food I've ever had. I always order their B.B.Q. pork meatball rolls for an appetizer and the rare steak pho. If you don't like pho, get the beef cube steak with fried rice. The most tender meat comes out on a sizzling plate with a big hunk of butter on top. Nothing better!
OB Noodle House (Ocean Beach)
OB Noodle House was on Diners, Drive-Ins and Dives and is a fun place to go to with friends. They actually have dishes from a variety of Asian cuisines, but they are best known for their pho. I actually like the pho from Phong Trang better but what keeps me coming back to OB Noodle House is their spicy garlic wings and atmosphere.
THAI
Koon Thai Kitchen (Kearny Mesa)
Thai food is known for their spice so if you like spicy foods, Koon Thai Kitchen is the place for you. They have huge portions that always leave me super full and with leftovers to take home. I always get the pad kee mao, but all of their food is super delicious and flavorful!
HAWAIIAN
Homestyle Hawaiian (Kearny Mesa, Tierrasanta, Chula Vista, National City, Oceanside, Pacific Beach)
In my opinion, Homestyle Hawaiian has the best Hawaiian plate lunches outside of Hawaii. I love taking their food to go and going on a picnic. My favorite things to order are the korean chicken, which is deep fried chicken covered in their lava sauce or their teri beef, which is super tender teriyaki beef. They also have some really good spam musubis and handmade shaken lemonade! It can get super crowded during lunch, so I would call ahead and order over the phone.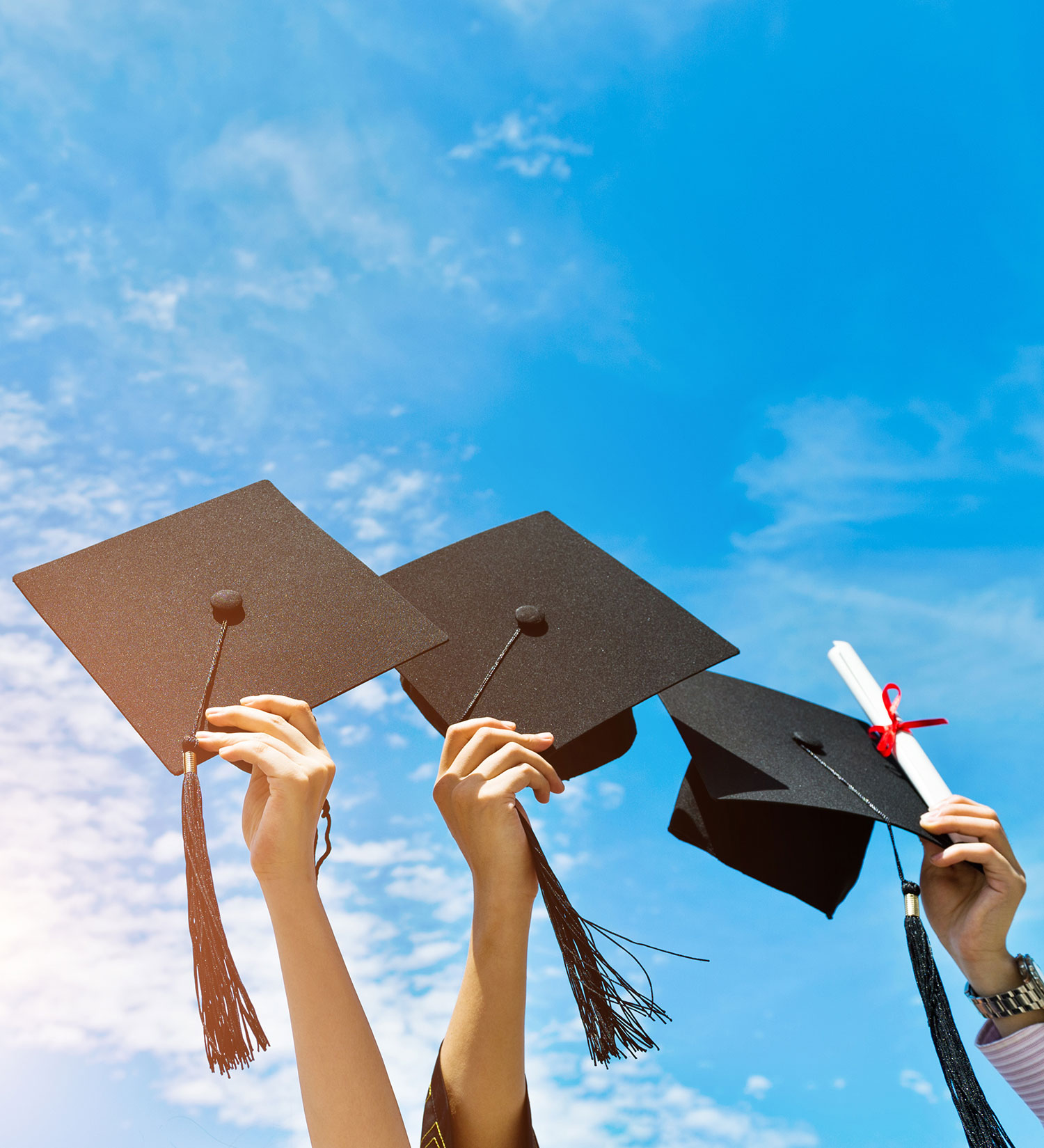 Graduating Student Employees
Thank you and congratulations to all of our graduating student employees! We wish you the best in your future endeavors!
Aztec Student Union
Skylar Adair, ASUB Programs Assistant
Jordan Amey, Operations Lead
Andrew Birch, Operations Lead
Moheb Beshay, Operations Lead
Blake Brownyard, Media Studio Technician
David Castillo, Audio Visual Technician
Carlos Contreras, Aztec Lanes Attendant
Santiago Cullingford, Audio Visual Technician
Matt Davolio, ASUB Programs Assistant
Joshua Eley, Operations Lead
Matthew Exworthy, Audio Visual Technician
Zack Felten, Maintenance Assistant Lead
Kellyann Fitzpatrick, Operations Assistant
Nicolette Fontaine, Operations Lead
Aiden Grayson, Audio Visual Technician
Carlos Gutierrez, Maintenance Assistant
Malijah Hopkins, Operations Assistant
Brianna Juarez, Operations Assistant
Tava Kessler, Media Studio Technician
Daniel Mandujano, Audio Visual Technician
Jocelyn Martinez, Operations Lead
Tyler Matlock, Aztec Lanes Attendant
Deanna Mejia Ortiz, Media Studio Technician
Janet Ngallo, Operations Assistant
Mercedes Ortega, Media Studio Technician
Kristin Riley, Operations Lead
Orlando Rivera, Reservation Assistant
Rebecca Rodriguez Casillas, A.S. Food Pantry Lead
Christian Scognamillo, Media Studio Technician
Christopher Simenti, Media Studio Technician
Annie Swierczek, ASUB Programs Assistant
Alvin Taliaferro, Aztec Lanes Attendant
Kianna Tejada, Operations Lead
Kevin Uy, Audio Visual Technician
Kate Walsh, Operations Lead
Courtney Willis, Aztec Lanes Lead
Marew Yousif, Aztec Lanes Attendant and A.S. Food Pantry Lead
Aztec Recreation
Michelle Aguero, Intramural Supervisor
Justin Barcenas, Sports Club Supervisor
Sam Barlow, Aquaplex Member Services Representative
Emily Burns, Aquaplex Member Services Representative
Olivia Busch, Lifeguard
Jude El-Nahhas, Intramural Lead
Abigail Garcia, Sports Club Supervisor
Courtney Giese, Member Services Lead
Cassandra Greene, Lifeguard
Katherine Haig, Climbing Wall Attendant
Spencer Herndon-Hummel, Member Services Representative
Nicholas Kelchner, Climbing Wall Attendant
Carson Kuntson, Member Services Representative
Sydney Johnstone, Aquaplex Member Services Representative
Morgan Lambert, Climbing Wall Attendant
Cameron Lay, Sports Club Supervisor
Peter Lee, Intramural Supervisor
Daniel Levin, Intramural Supervisor
Jose Maldonado, Intramural Supervisor and Member Services Representative
Kyle McCoy, Intramural Supervisor
Emily Nastari, Group Fitness Instructor
Iscaret Negrete, Member Services Representative
Ally Norman, Aquaplex Program Assistant
Jake Preciado, Intramural Supervisor|
Roberto Puquirre, Member Services Representative
Guiherme Ramalho, Sports Club Supervisor
David Ramirez, Group Fitness Instructor
Chris Roberts, Aquaplex Member Services Representative
Sarah Somavia, Sports Club Supervisor
Efetobor Umukoro, Member Services Representative
Allison Wade, Member Services Representative
Business Services
Rachelle Lopez, Student Organization Accounts Assistant
Kylie Lafrades, Accounts Payable Assistant
Mackenna Teeman, Human Resources Assistant
Children's Center
Natalia Armanino, Assistant Teacher
Lucy Atkins, Assistant Teacher
Cassidy Chevalier, Assistant Teacher
Mayumi Crockett, Assistant Teacher
Sarah Doss, Associate Teacher
Sofia Flores, Associate Teacher
Rachel Gaynor, Associate Teacher
Giselle Garcia Reyes, Assistant Teacher
Alyssa Geffen, Assistant Teacher
Eduwina Javier, Assistant Teacher
Courtney Loo, Kitchen Assistant
Brandon Lopez, Kitchen Assistant
Angela Lua, Associate Teacher
Holly Lynd, Associate Teacher
Angie Nguyen, Associate Teacher
Vanessa Montes, Associate Teacher
Evannia Pekarek, Associate Teacher
Karina Perez, Kitchen Assistant
Isabelle Quejada, Associate Teacher
Maya Reyes, Assistant Teacher
Heather Ryan, Assistant Teacher
Fathema Saifudeen, Assistant Teacher
Sarah Staffen, Assistant Teacher
Ashley Stokes, Associate Teacher
Government Affairs
Karina Esteban, Executive Vice President
David Gamble, Chief of Staff
Jennifer Schenkenfelder, Vice President of University Affairs
Kole Wellenstein, Shared Governance Assistant
Mission Bay Aquatic Center
Nina Blanc, MBAC Office Assistant
Chloe Fairman, MBAC Camp Counselor
Andrew Fineman, MBAC Wakesports Instructor
Stella Greenwood, MBAC Sailing Instructor
DeWayne Hafen, MBAC Dockmaster
Jonathan Holguin, MBAC Dockmaster Program Assistant
Kaitlyn Oki, MBAC Wakesport Instructor
Mandy Padilla, MBAC Camp Counselor
Sara Pence, MBAC Office Program Assistant
Kaitlyn Verdugo, MBAC Office Assistant
Quinn Wiley, MBAC Wakesports Program Assistant
Viejas Arena
Sam Esser, House Manager
Amina Lovato, Ticket Seller
Mikayla Schulze, Administrative Student Assistant
Nicole Waniewski, Ticket Seller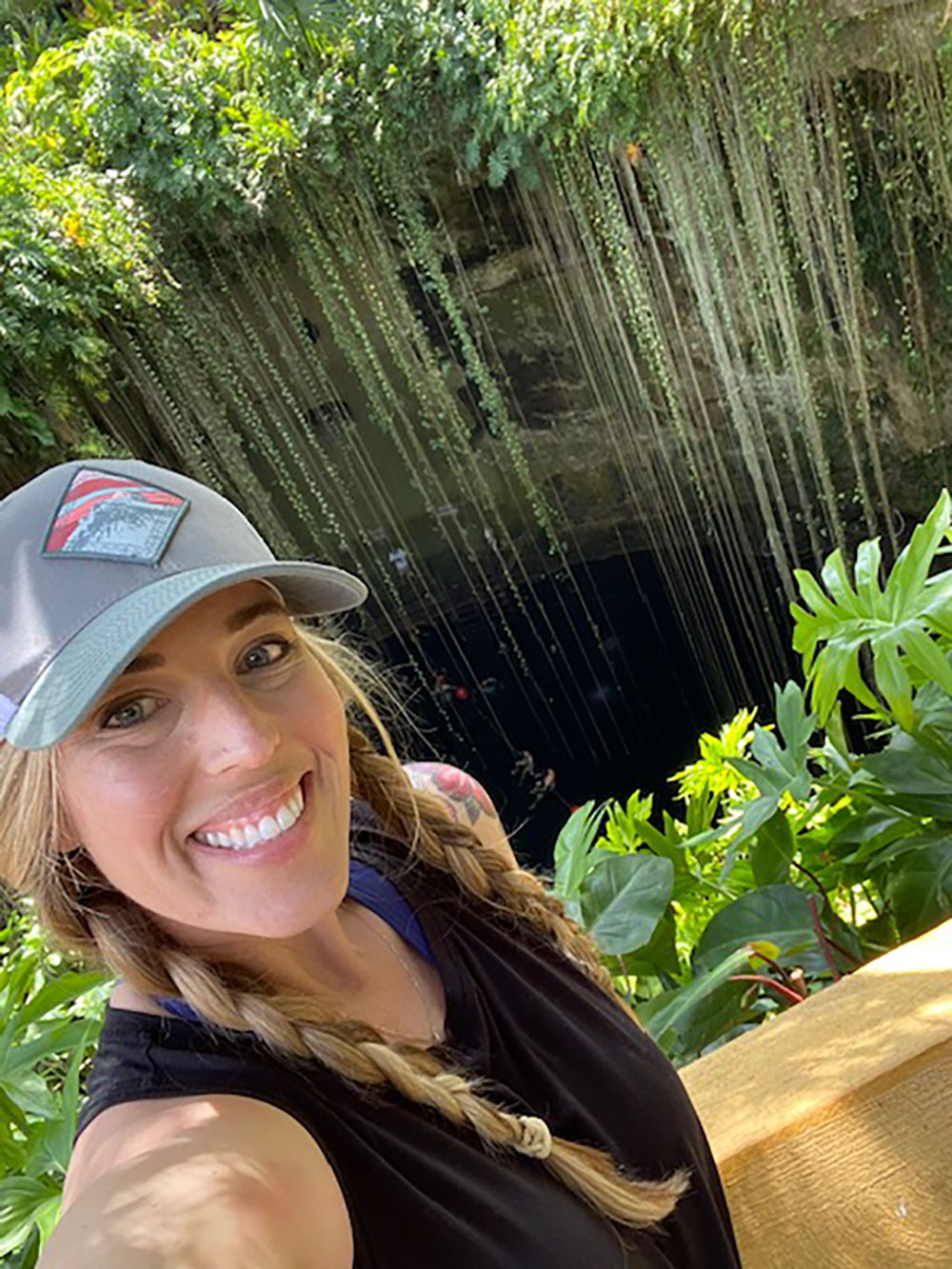 15 Questions
Jennifer Shorey
What is your name and title?

Jennifer Shorey, Contract and Risk Management Coordinator

Which A.S. department do you work in?

I work in HR and I prepare all the contracts A.S. uses. The risk management portion of my job is all things safety related to the organization.

How long have you worked for A.S.?

I've been with A.S. since October 2021 — 6 months sure does fly by.

What do you like most about working for A.S.?

I love how warm and welcoming everyone in A.S. is. Being new can be challenging and overwhelming, but A.S. does a great job of making everyone feel right at home.

If you won $5 million what would you do with it?

First, I would pay off my home and then I would travel around New Zealand for a month. I'd save some of the money and then donate a good portion to different animal welfare organizations.

What is your favorite dessert?

Baskin Robbins Gold Medal Ribbon ice cream. Growing up that was always my favorite flavor and it still is to this day.

What city would you most like to visit or visit again?

Rome. It is a magical city and I would love to see it again one day.

If you had one free hour each day, how would you use it?

I would spend that time with my dogs going on hikes.

Which famous person from history would you most like to meet?

Dave Grohl. I've been a fan of his since the early 90s.

What is your favorite book?

"The Martian" is one of my all-time favorites. Just an easy read that is very entertaining.

If you could start a charity, what would it be for?

I would start a charity to help with the rescue efforts of sea otters and manatees.

What type of pets do you have and what are their names?

Two dogs, Cooper a fox terrier blend and Walter a corgi.


Cooper (left) and Walter

"Most people don't know that I like to…

…paint. It's a relaxing and therapeutic hobby."

What's the best concert you've been to and why was it so good?

Foo Fighters at The Forum. They are my favorite band and that was my first time seeing them live. They sounded incredible!

If you could have a superhero power what would it be?

Teleportation. I love to travel but if I never had to go to the airport again that would be fine with me.
Calendar
MAY 2022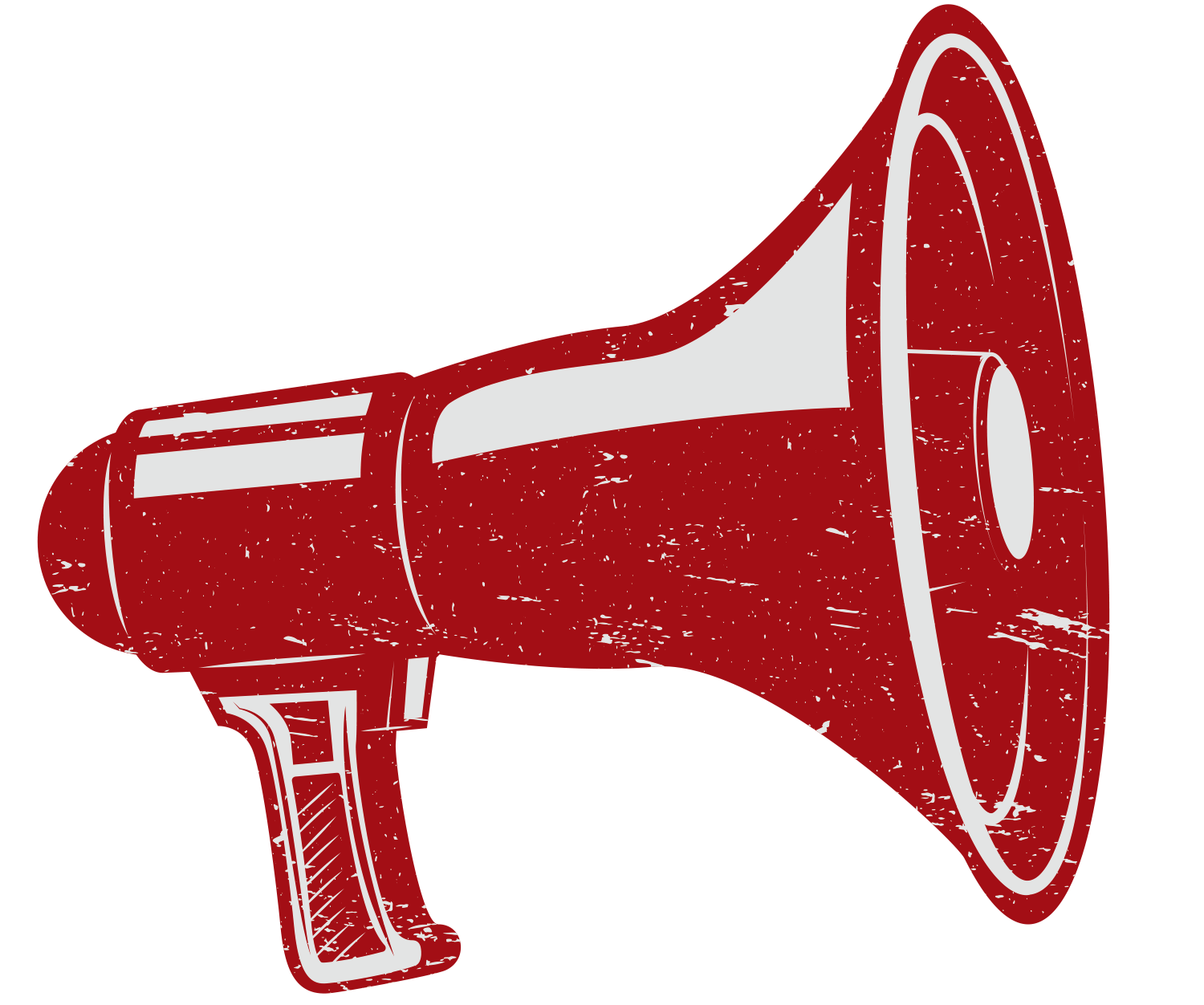 02
MONDAY
Monday Night Movie
6:30 p.m.
Union Theatre
Moana
$calendar_url
04
WEDNESDAY
Nooner
12-1 p.m.
Union Courtyard
Live music in the Union.
$calendar_url
05
THURSDAY
Last Day of Classes
06-12
FRIDAY-THURSDAY
Finals
13-15
FRIDAY-SUNDAY
Commencement
$calendar_url
SATURDAY-MONDAY
Kids Bowl Free
$calendar_url
30
MONDAY
Memorial Day
Campus Closed