Jul '20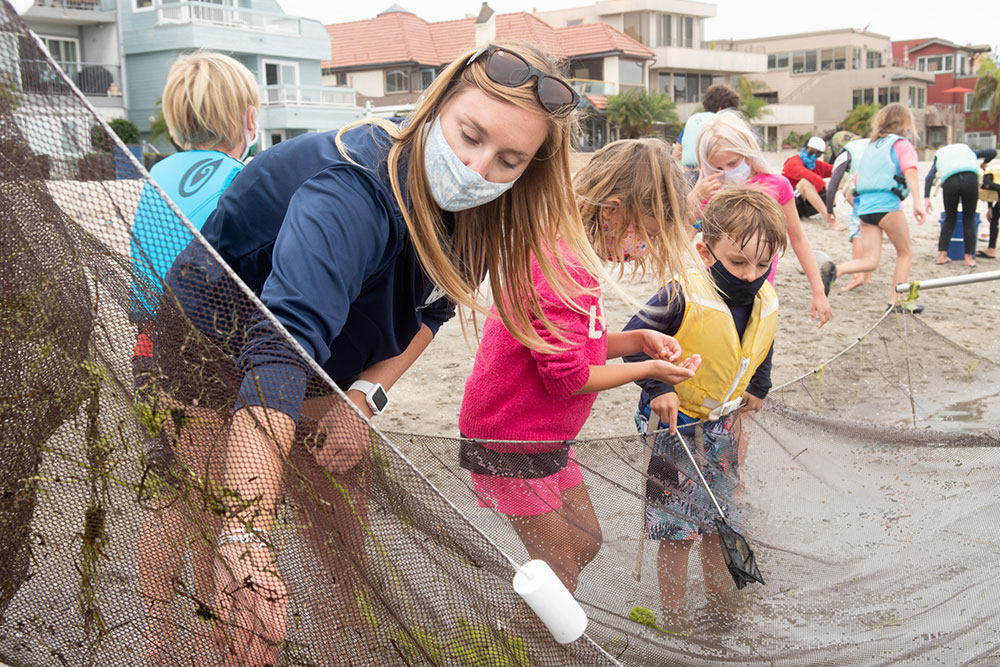 A.S. Facilities Update
Summer in Swing at Mission Bay Aquatic Center
As shared in last month's newsletter, Mission Bay Aquatic Center reopened per state and county guidelines.
MBAC Youth Camps Open
The first week of The Watersports Camp 2020 was launched as a small pilot to finalize and test the systems for safe operations under the new health and safety guidelines.
Some of the changes to youth camp programming at MBAC this summer include smaller group sizes that are consistent throughout the week, health screenings every morning for staff and campers, contactless pickup and dropoff, rules and expectations for face coverings and sanitizing equipment between use. The biggest lesson learned during the week was that kids at camp can have an amazing experience and outstanding attitude in the face of difficult conditions. Their resilience is inspiring.
MBAC Rentals Continue Strong
The rental program has been booming as San Diegans have been donning their facial coverings and heading out to open spaces at the bay. Some full-time staff from Aztec Recreation have been helping manage the load to provide outstanding service and community access to the water.
It's looking to be a great summer at MBAC! Visit the MBAC website for more information.
Future A.S. Facility Reopenings
We are closely tracking state and county guidance and actively creating plans for safe re-entry for the rest of our A.S. facilities. Facility reopening plans are being reviewed by the university to ensure they meet guidelines. Stay tuned for more information soon about the status of reopening A.S. facilities.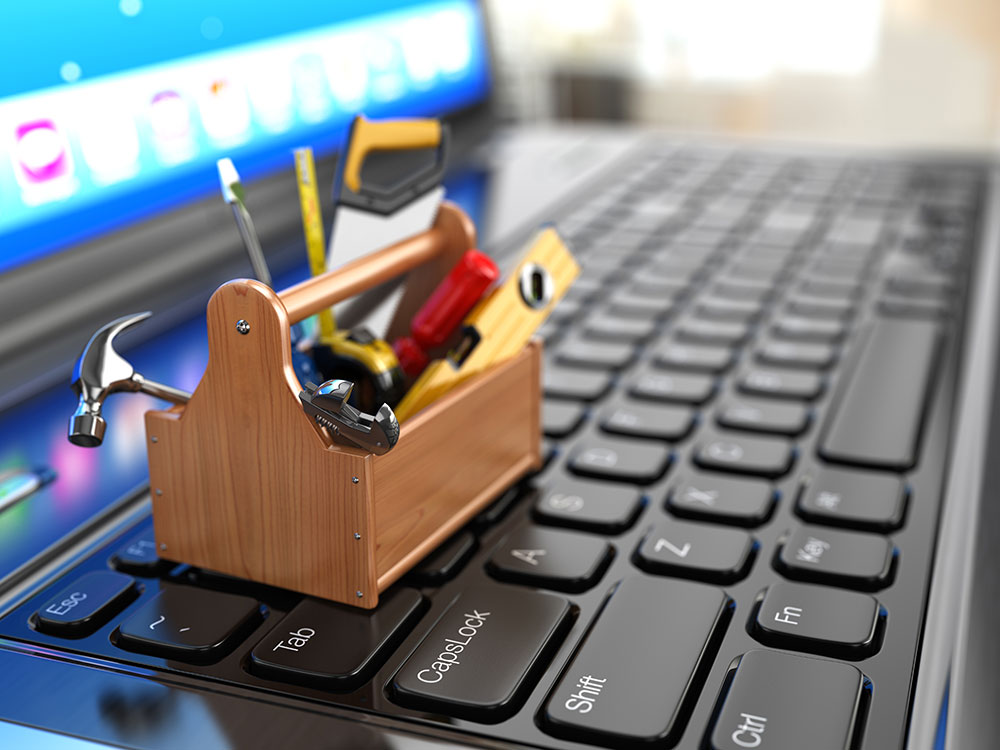 Q&A with A&A Follow-Up

Thank you to those who joined the first Q&A with A&A (Anthony & Andrew) event. The duo covered an overview on Google Drive and touched on a few key features that can prove useful in your current workflow. Three big takeaways were the unlimited amount of storage space Google Drive provides to use as backup for documents and photos, the ability to share and collaborate on docs in real time with an assigned group and the advantages of using the mobile app version on the go. For those who were not able to join the session or for those who would like to review what was covered, review a recording of the live event.
We will be hosting our second Q&A with A&A event at 10 a.m. on Thursday, July 2 featuring Adobe Acrobat and Adobe Sign as our topic. All A.S. staff should have this event on the calendars and can join via Zoom.
Adobe Acrobat and Adobe Sign
Thursday
10 a.m.
Zoom Meeting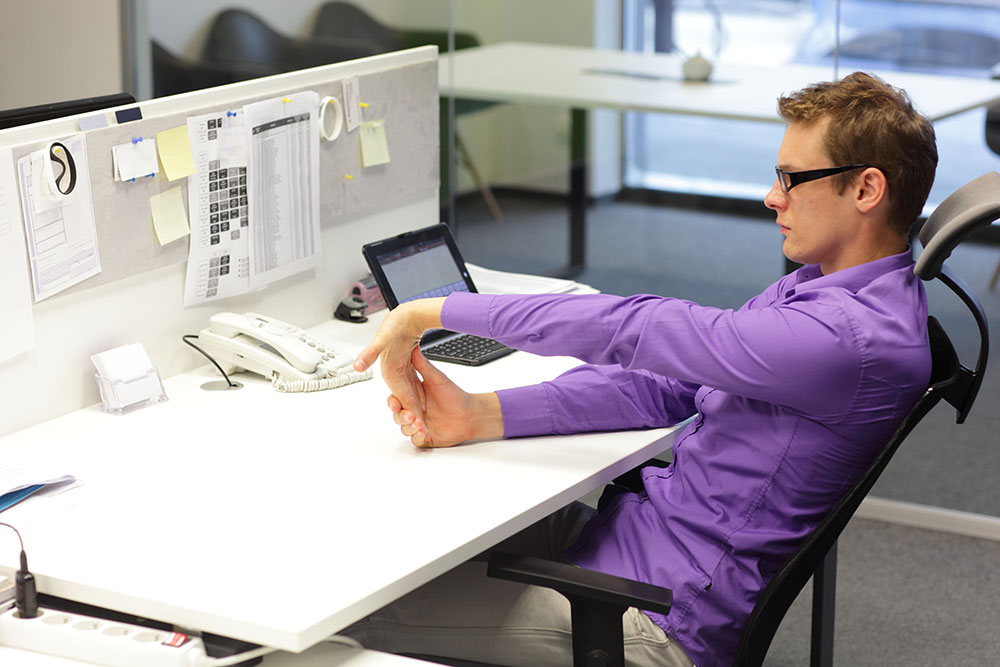 Ergo Tips at Home
These ergonomic tips and stretches can help improve your work experience at home.
Ergonomic Tips
Use a good chair and raise your chair if needed.
If you do not have a good chair or your elbows are not at keyboard height, add pillows, cushions or towels for back and leg support.
Support your feet.
If your feet are not flat on the ground, use a book, box or other stable material.
Take micro/muscle breaks.
Take a 2-3 minutes break every 35-45 minutes to get up, move around and allow the muscles you are using to get a short rest break.
Do ergo exercises.
Do hand stretches. Raise your forearms. Do arm extensions or side bends.
Take a Break From Repetition
If you find yourself doing a job task over and over, you should take adequate breaks from the repetitive motion. This means:
Get up and move around. For example, move your printer to a location where you have to get up.
During a break, roll your wrists and hands. This will help if you've been typing for a long time.
Try to vary your tasks as much as possible so you aren't in a position where you have to keep doing repetitive motions.
Remember to Stretch
Finger and Wrist Flexor Stretch
Straighten your elbow with your palm up.
Point your fingers toward the floor.
Use your other hand to gently pull down on your palm and fingers.
Hold for 10-15 seconds. You should feel a mild pulling sensation. If you experience discomfort, then perform the stretch more gently or go back to the previous step.
Hamstring Stretch
Place your heel on the ground in front of you with your knee straight. You may wish to stand next to something for balance.
Keep your back straight, look up at the ceiling, and bend forward at your hips.
Hold for 10-15 seconds. You should feel a mild pulling sensation. If you experience discomfort, then perform the stretch more gently or with your foot on the floor.
Low Back Flexor Stretch
Place your hands on your hips.
Gently lean back.
Hold for 10-15 seconds. You should feel a mild pulling sensation. If you experience discomfort, then perform the stretch more gently or go back to the previous step.
Neck Shoulder Stretch
Place your hands in front of your forehead with palms facing out. Take a deep breath in.
Pull elbows toward your back pockets while rotating your palms out.
Slowly exhale while squeezing shoulder blades together and drawing head back.
Once you have fully exhaled, hold for 10-15 seconds. Repeat twice. If you experience discomfort, then perform the stretch more gently or go back to the previous step.
Source: Alliant Risk Control Consulting Services
Looking for more interactive exercises and stretches?
Check out Aztec Recreation's Virtual Workout Resources:
The Virtual Workouts Resources on the ARC website provides a variety of options
View the Aztec Recreation Instructional Videos playlist on the Aztec Recreation YouTube channel.
Join in weekly Live Hatha Vinyasa Yoga via Zoom at 5:30 p.m. every Thursday.
Summertime Dessert Recipes
Summer has arrived! We would like to share some dessert recipes that will be a perfect compliment to your summertime meal along with the beautiful weather.
If you all decide to make our recipes, please share your photos and reviews with us for the next newsletter! Please send photos and reviews to Letty Hernandez.
Fourth of July Fruit Pizza
Contributed by Sara Sanders
This Fourth of July Fruit Pizza is one of the Children Center's staff favorites.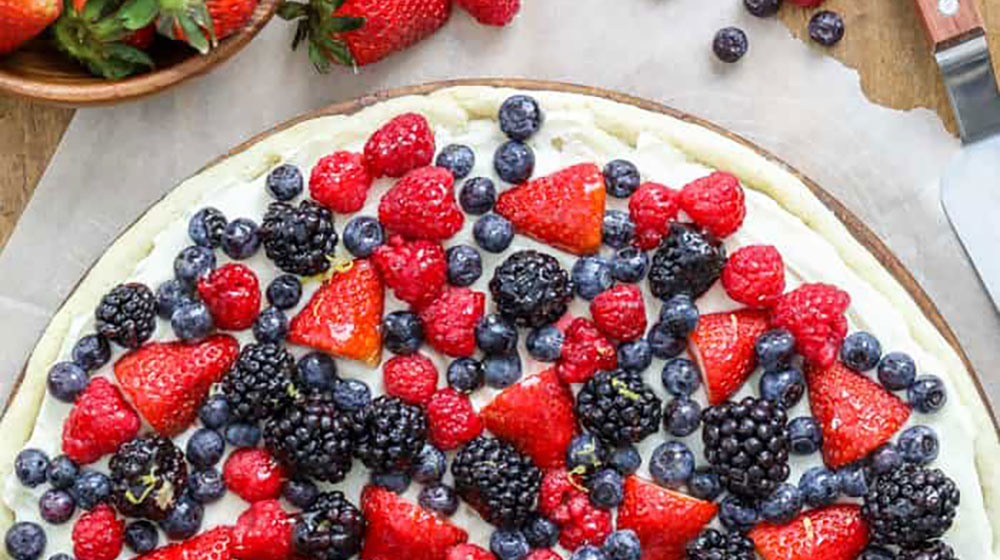 Ingredients:
1 package 16.5 oz of refrigerated sliceable sugar cookies (you can also mix up a sugar cookie package), either will work
1 package of cream cheese
¼ cup granulated sugar
½ tsp. vanilla extract
Sliced strawberries
Blueberries
Raspberries
Blackberries
Preheat the oven to 375 degrees.
Line a 12-inch pizza pan with aluminum foil; spray with cooking spray. Place cookie dough slices in a single layer on the bottom of the prepared pan; press to completely cover the bottom of the pan. Bake 14 minutes or until edge is lightly browned; cool completely
Invert cookie crust onto a plate; carefully remove foil. (You can also just leave the cookie on the cookie sheet or whatever pan you choose to use and serve from there.)
Beat cream cheese, sugar and vanilla with mixer until blended; spread onto cooled crust. Top with berries. Refrigerate for 2 hours.
This can be made with a variety of your favorite fruits. However, berries are always a nice touch for your July cookouts.
Grilled Strawberry Shortcake
Contributed by Letty Hernandez
This is a fun summer take on the classic! You can switch it up and add any fresh seasonal fruits like berries, peaches or pineapple. Simple and delicious!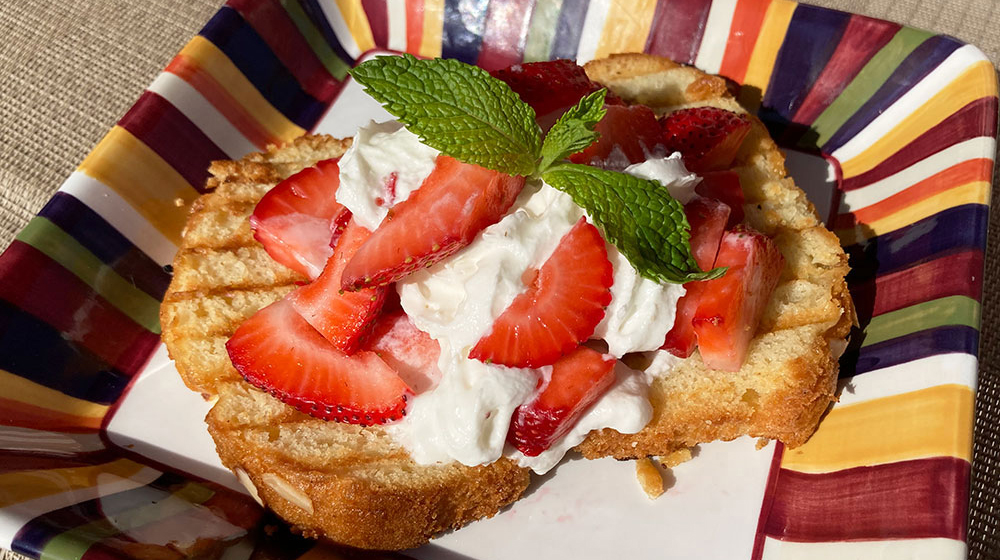 Ingredients:
1 cup sliced fresh strawberries
5 tablespoons sugar, divided
1 tablespoon minced fresh mint
1 cup heavy whipping cream
1 tablespoon lemon juice
1 teaspoon grated lemon zest
3 tablespoons butter, softened
6 slices of pound cake (about 1 inch thick)
In a large bowl, combine the strawberries, 2 tablespoons of sugar and mint; set aside.
In a small bowl, beat cream until it begins to thicken. Beat in remaining sugar. Add lemon juice and zest; beat until soft peaks form. Cover and refrigerate until serving.
Spread butter over both sides of the cake slices and sprinkle with some light sugar. Grill, uncovered, over indirect medium heat for 1-2 minutes on each side or until light golden brown. Serve with fresh strawberry mixture and whipped cream.
Blueberry Banana Bread
Contributed by Janice Dils
This is my 'go-to' recipe for banana bread. When I have ripe bananas, I always make this banana bread. Adding blueberries will add a great summertime flavor and lightness to the bread. All you need is a spatula and a mixing bowl, yay!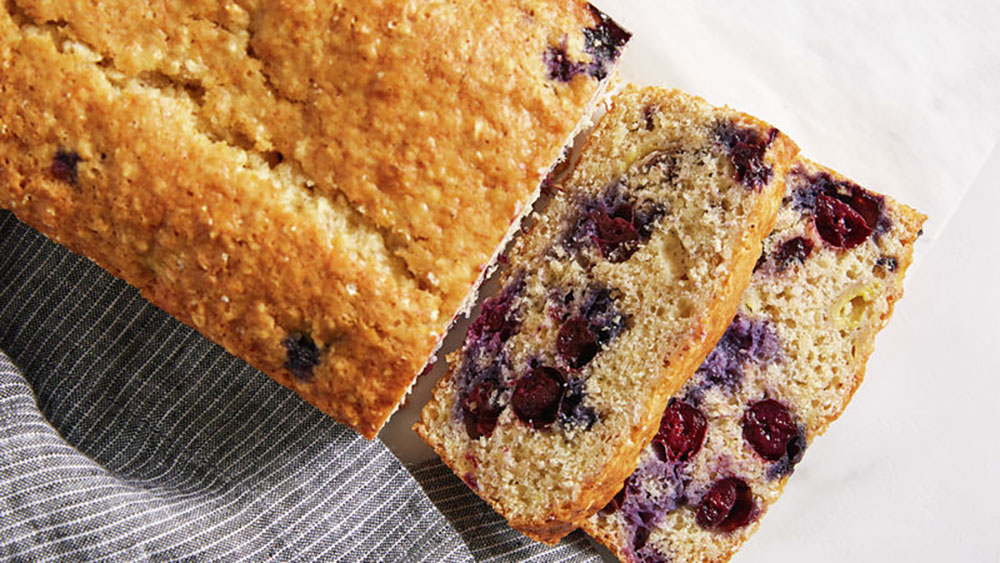 Ingredients:
3 ripe bananas, mashed
1 teaspoon of baking soda
1/3 cup of unsalted butter, melted
1 egg, beaten
Pinch of kosher salt or table salt
½ cup of brown sugar or ¾ cup of granulated sugar
½ teaspoon of cinnamon powder (optional)
1 ½ cups of all-purpose flour
1 cup of fresh blueberries tossed in 2 teaspoons of flour
Preheat the oven to 350 degrees. Spray a loaf pan with oil spray.
In a large mixing bowl, mash the bananas. Add the baking soda and let it sit while you melt the butter in a small bowl in the microwave (about 35 seconds, give or take a few).
Add the melted butter. In the same bowl, beat one egg. Add egg to the banana mixture.
Add the salt, sugar and cinnamon powder (if desired). Mix the ingredients.
Add the all-purpose flour and mix until all ingredients are incorporated. Do not overmix!
Lightly fold in the fresh blueberries.
Pour the batter into the oiled loaf pan.
Cooking times vary depending on your oven. I would recommend setting the timer for 35-40 minutes. You can do the "toothpick" check by sticking in the middle of the loaf. If it comes out clean, it is ready. The top of the loaf should be a nice, crusty light brown.
Let it cool completely before slicing.

Don't forget, for those of you that give these recipes a try, please send in your pictures and reviews to Letty. We would love to see your creative takes on these recipes.
Have a recipe to share? Please submit the recipe and a picture to Letty.
Submitted By: Sara Sanders, SDSU Children's Center, Letty Hernandez, Government Affairs, and Janice Dils, Government Affairs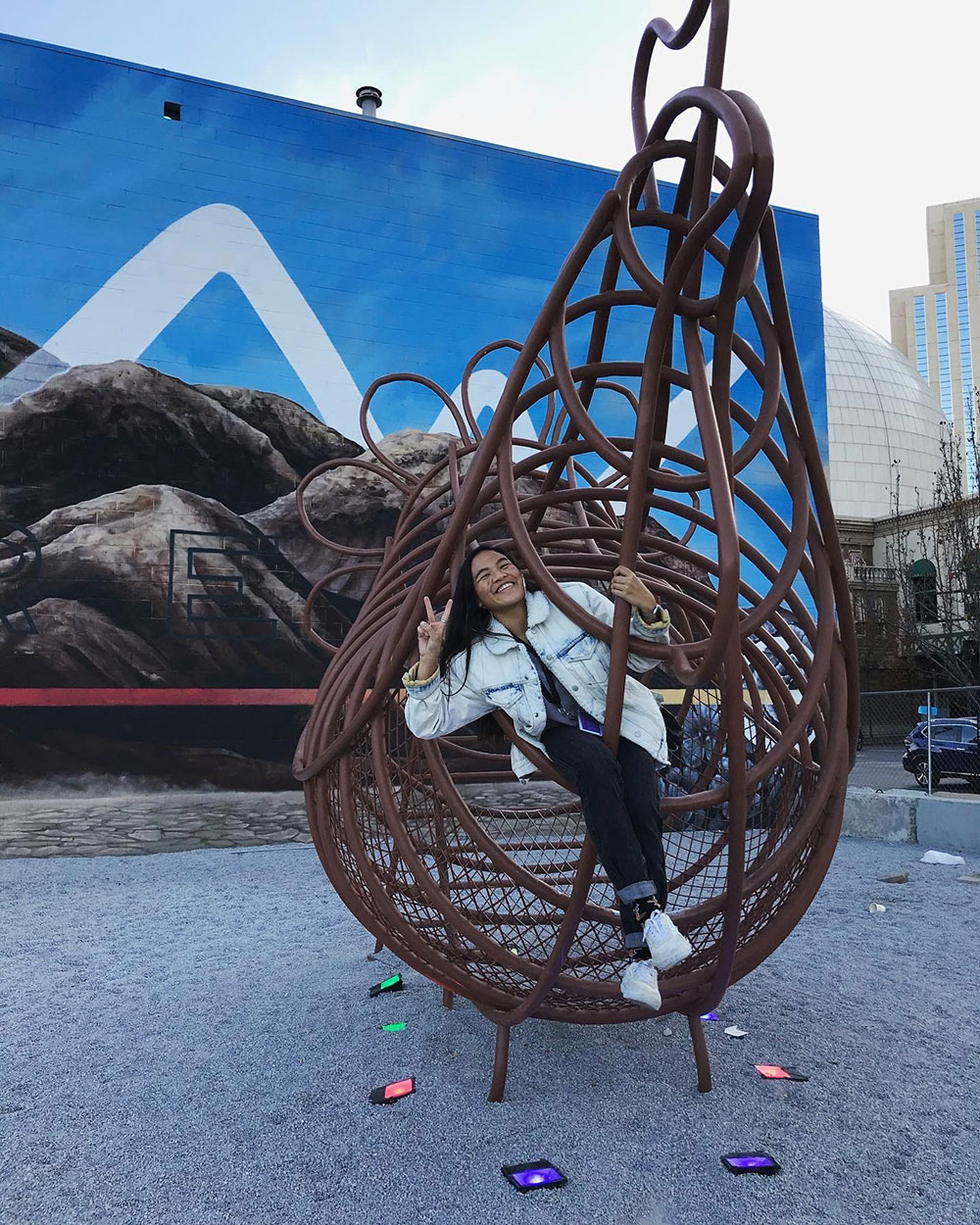 15 Questions
Natalie Bagaporo
What is your name and title?


Natalie Ricasa Bagaporo, Associated Students Assistant Programs Coordinator

Which A.S. department do you work in?


I work in ASUB. My job is to advise the programming chairs of the Aztec Student Union Board in the creation and marketing of their Union events.

How long have you worked for A.S.?


A year and 2 months.

What was the last movie you saw? Thumbs up or thumbs down?


The last movie that I watched was "Gook." It's a brilliant film produced and directed by Asian American YouTubers that I grew up on. It paints a picture of the Korean-American perspective during the Rodney King Riots.

What city would you most like to visit or visit again?


I spent two months in the summer of 2017 studying at the University of Hawai'i at Manoa in Honolulu, Hawai'i. During that time, I was able to meet, study under, and organize with Native Hawaiian leaders, local community organizers, and my best friend. This city helped me to experience one of the most transformational experiences of my life, and I would love to go back.

If you had one free hour each day, how would you use it?


I would spend this hour creating. A goal of mine is to tap into my creative identity in order to imagine new realities and produce innovative solutions. This hour would be full of authentic identity exploration and unapologetic vulnerability.

Do you prefer pens or pencils?


Depends! Pens under .5mm are my favorite, but a classic wooden No.2 pencil always plays to my nostalgic heart strings.

What is your favorite book?


"The Alchemist "by Paulo Coelho has been one of my favorite books since my freshman year of high school. I think it was one of the first books I read that really expanded my perspective on the powers of the Universe. One of its principle teachings is that the Universe is always conspiring in our favor, but it's up to us to see the signs and make use of the opportunities that it presents.

What do you want to be when you grow up?


When I was younger, I wanted to be a veterinarian or a zoologist. The San Diego Zoo was my favorite place to visit, and it greatly influenced my dream career path. I could name facts about every animal in the zoo, and eventually, I wanted to work with larger animals like tigers and wolves.

What type of pets do you have and what are their names?


I have two pugs. They're a brother and sister duo named Pogi and Mochi.

What does your perfect burger have on it?


My all-time favorite burger is the Dirty Flat Top Cheeseburger from The Friendly in North Park. It's a super simple combo of beef patties, cheese, grilled onions and garlic aioli. I highly recommend stopping by and grabbing a burger of your own!

What's the best concert you've been to and why was it so good?


The best concert I've ever been to was when Nao came to The Observatory in North Park. She really set the tone and let us know that it was a space where we could dance, be healed and have fun! Her range is absolutely incredible. The venue even let us stay afterwards to line dance as they were closing the building.

If you could have a superhero power what would it be?


If I could have a superhero power, it would be the ability to be in multiple places at once. I've always felt that there wasn't enough time in the day to do it all, but if there could be multiple me's, then I could enjoy all the wonders of life.

What is one of your favorite things to do on the SDSU campus?


I love taking a long loop around campus and passing by the koi fish and turtles by Scripps Cottage, the garden, and the murals on the art building. SDSU is a beautiful campus, and I truly appreciate and admire the views and nature.

What do you like most about working for A.S.?


Associated Students has been the first workplace where I feel that I am truly part of a family. My colleagues have become mentors, teammates, and friends, and the students I've had the opportunity to advise fill my life with light.
Calendar
July 2020