Student Teams
WELCOME FROM Liz Leathers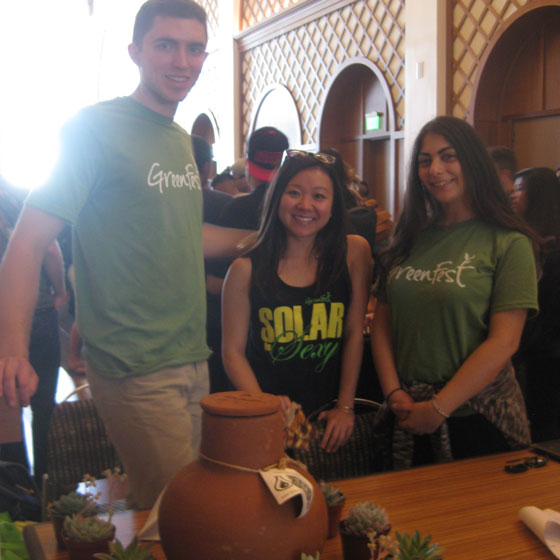 Dear fellow Aztecs,
On behalf of the GreenFest committee, we would like to thank you immensely for your interest in GreenFest, in efforts to keep the tradition alive. Your involvement goes far beyond San Diego State University and promotes sustainability and awareness on a much larger scale! Your support assists in continually flourishing our three pillars, which are sustainability, diversity and of course, Aztec Pride. We hope that while participating in GreenFest week, you not only gain valuable information about sustainability and begin thinking green, but you have a blast bonding with friends and other students while competing in fun-filled activities and events!
This Resource Guide booklet contains important information regarding the various Student Team Competitions, crucial deadlines, and the schedule of events.
Your student team must consist of at least five (5) members in order to be able to participate in the 2017 GreenFest Competitions.
If you have any questions, comments or concerns please email us at: greenfest.studentteams@gmail.com or visit us at Associated Students, Union 320.
We look forward to your participation in making GreenFest 2016 both vibrant and certainly one to remember!
See you soon,
Liz Leathers
Vice Chair of Student Team Competitions, Aztec Student Union Board
---
APPLICATIONS
Ready to submit your application? Apply now at: goo.gl/W0VGoq
---
IMPORTANT DATES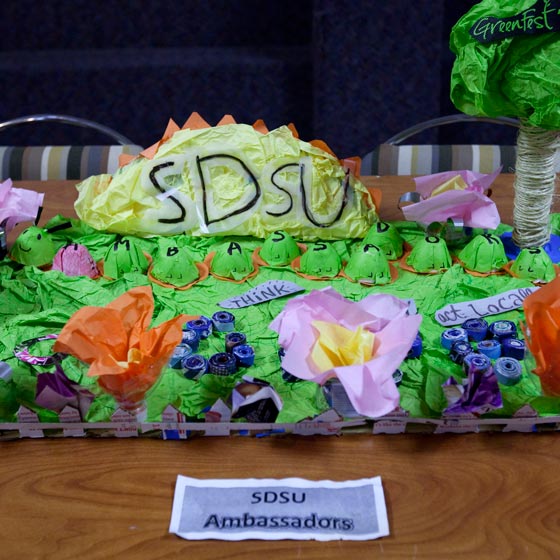 Monday, February 6
Informational Meeting (Optional) at 2pm in Legacy Suite, Conrad Prebys Aztec Student Union
Friday, February 10 - DEADLINE FOR APPLICATIONS!
Application due by Midnight. Ready to submit your application? Apply now at goo.gl/W0VGoq
Monday, February 20
Mandatory Meeting at 2pm in Legacy Suite, Conrad Prebys Aztec Student Union
You MUST have at least one (1) representative present from each team or points will be deducted from team's overall score.
Wednesday, February 22
Music Videos AND Enviro Fashion Show Information due by Midnight. All submissions must be emailed to greenfest.studentteams@gmail.com
Fashion show information includes a description of all three (3) outfits, as well as the song(s) that each member will be walking to.
Please see below for details and guidelines
Basic plan and design for the following:
Your planned Recycled Art Competition design
ALL of the above MUST be emailed to greenfest.studentteams@gmail.com by February 22 at midnight.
---
GreenFest Competition Week 2017
Sunday, 2/26
COWLES MTN HIKE
4pm, Meet at Cowles Mountain
Monday, 2/27
BIKE RALLY
9am, Cucicalli, The Garden Dining Hall
BIKE BRUNCH
9:30am, South Campanile Walkway
MEATLESS MONDAY AND TRIVIA NIGHT
6pm, Lee & Frank Goldberg Courtyard, Conrad Prebys Aztec Student Union
Tuesday, 2/28
e3 BUSINESS FAIR
10am, Montezuma Hall, Conrad Prebys Aztec Student Union
SUSTAIN YOUR ROOTS
7:00pm, Lee & Frank Goldberg Courtyard, Conrad Prebys Aztec Student Union
Wednesday, 3/1
GREEN LUNCH BAG SERIES
Noon, Theater, Conrad Prebys Aztec Student Union
GREEN IT TO WIN IT
3:00pm, Lee & Frank Goldberg Courtyard, Conrad Prebys Aztec Student Union
Thursday, 3/2
FARMERS MARKET
10am, North Library Walkway
SUNSET YOGA
5:00pm, ENS Field
ENVIRONFASHION SHOW AND MUSIC VIDEO AWARDS
7:00pm, Montezuma Hall, Conrad Prebys Aztec Student Union
Friday, 3/3
GREENFESTIVAL
4pm, ENS Field
RECYCLED ART COMPETITION
4:30pm, ENS Field
CONCERT
7pm. CalCoast Credit Union Open Air Theater
Saturday, 3/4
GOOD NEIGHBOR CLEANUP
9am, Lee & Frank Goldberg Courtyard, Conrad Prebys Aztec Student Union
---
COMPETITION POINTS BREAKDOWN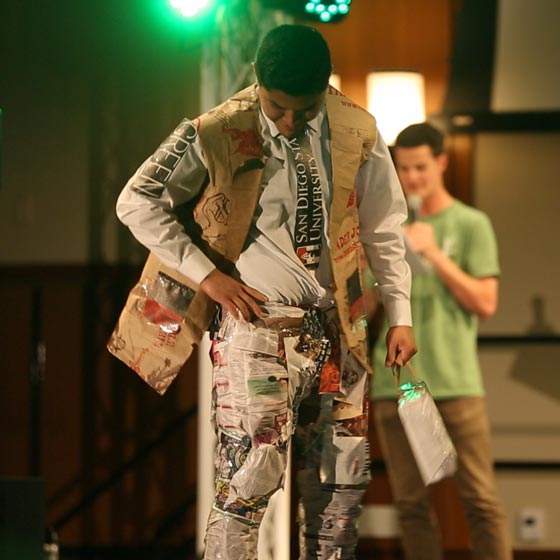 Read the Resource Guide: goo.gl/aWyufc
Email greenfest.studentteams@gmail.com for questions
---
CONTACT US
Email: greenfest.studentteams@gmail.com
Office: Associated Students, Conrad Prebys Aztec Student Union, Suite 320